Ride Along DVD Review: Kevin Hart & Ice Cube Have a Good Day
by Joel D Amos at . Updated at . Comments
Ride Along became the comedy hit of the year when it debuted in the early days of 2014. And now with the Ride Along DVD, Blu-Ray and digital download available today, it should easily be the smash home video release of the year.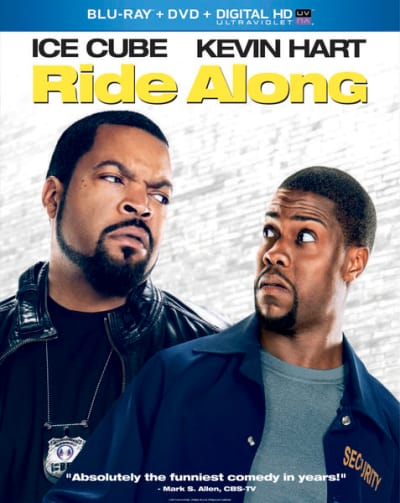 Ice Cube stars in Ride Along as a hard-nosed Atlanta detective who finds himself having to deal with a "little punk" who is dating his sister. Turns out that "little" guy is Kevin Hart and he has plans of proposing to Cube's sister (Tika Sumpter). Oh, and he shares Cube's passion for police work and has just been accepted into the police academy.
Our cop has an idea: Take Hart on a ride along, and with one day on the tough streets of A-Town, he'll be rid of him forever, both personally and professionally.
As we stated in our theatrical Ride Along review, we adore these two together. They have a comic chemistry that pops off the screen and that is why we could not be more thrilled that it has been announced that Ride Along 2 is coming soon.
The thing about great action comedies and their home video releases is what sets them apart isn't simply the quality of the movie itself. It is those hilarious, or oftentimes not so hilarious, bonus features. Ride Along won't have to worry about people not enjoying the featurettes that seem to have a situation where each one is funnier and more enjoyable and insightful than the previous! 
First and foremost, Movie Fanatic loved the alternative ending, and with what we know about there being a sequel, it only adds fuel to the funny fire that is that secondary conclusion to director Tim Story's tale.
Given what we've said about the impeccable chemistry between Hart and Cube, we have to start with the brilliance that is the bonus feature Kev & Cube's Wild Ride. It goes deep into how that ease they had with one another was actually something that was worked at with each bringing a keen appreciation for the other's talents to each scene. This is a rare bonus feature that focuses on the chemistry between co-stars that actually manages to quantify the un-quantifiable that is essentially capturing lightning in a bottle.
An Explosive Ride takes audiences behind some of the more action-y scenes of the films and is another unique bonus feature that showcases the bond between stars and their stunt doubles. It is a fine line when choreographing a stunt between having it work and having it not work because of an uneasy hand-off between actor and stunt person. An Explosive Ride explores this remarkably well.
Given that Hart is known for his killer comedy improv and Cube can throw a joke off the cuff as well (seen him in those Friday movies?!), You Gonna Learn Today takes you behind the scenes during some of the most spontaneous moments that Story captured for his film.
Paraphrasing one of Ice Cube's biggest hits, the bonus feature It Was A Good Day: On The Set Of Ride Along takes audiences on a journey that truly puts the viewer on the Atlanta set and chronicles the ebbs and flows of making a movie. And speaking of Atlanta, Atlanta -- The Character gives us an inside look at the Georgia city that has become a hotbed of filmmaking. It is truly fascinating.
We would be remiss not to give a shout-out to the feature commentary by Story that provides another angle to the hilarity that we see on screen. The deleted scenes and gag reel are also don't-misses as you would expect from a film that itself is as funny as they come. 
Can't wait to go out and get this comic gem? Watch Ride Along online right now!