Star Wars Episode VII Cast Announced: Who Has the Force?
by Joel D Amos at . Updated at . Comments
Disney and Lucasfilm have announced their cast for Star Wars: Episode VII… finally! The cast gathered in London for a read-through and the following photograph was released!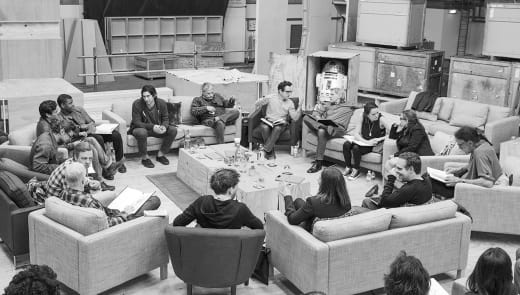 The film will feature the previously rumored Adam Driver (we've guessed that he's the main villain), as well as John Boyega, Daisy Ridley, Oscar Isaac, Andy Serkis (soon to be seen in Dawn of the Planet of the Apes), Domhnall Gleeson, and Max von Sydow.
They will join original stars (which we had long thought would be in it) Harrison Ford, Carrie Fisher, Mark Hamill, Anthony Daniels, Peter Mayhew and Kenny Baker in the new film.
"We are so excited to finally share the cast of Star Wars: Episode VII," Abrams said in a statement with the announcement of the cast.
"It is both thrilling and surreal to watch the beloved original cast and these brilliant new performers come together to bring this world to life, once again. We start shooting in a couple of weeks, and everyone is doing their best to make the fans proud."
Preproduction is already underway in Abu Dhabi and soon in Iceland, and the film is penned by Abrams and Lawrence Kasdan. Look for Star Wars: Episode VII in December of 2015. More on this throughout the day!