Star Wars Episode VII: Harrison Ford to Play a "Gigantic" Role
by Joel D Amos at . Updated at . Comments
Yesterday we reported that Harrison Ford, Mark Hamill and Carrie Fisher were all in London and that, of course, is where J.J. Abrams is filming Star Wars: Episode VII. So, you can probably infer that the trio from the original Star Wars films is there to work on Episode VII. Now, Deadline is reporting something that should be like a combination of the best birthday present ever with news you've scored that promotion at work -- and so much more.
Ford's role as Han Solo is going to be "gigantic."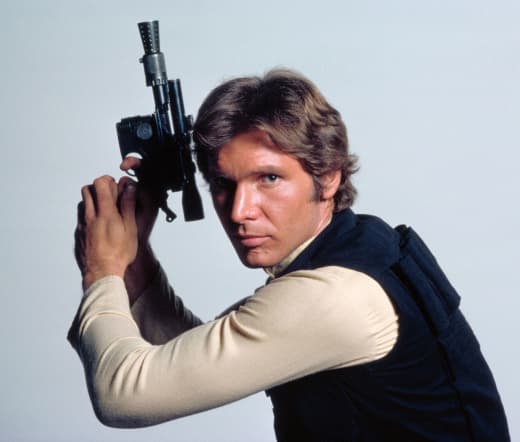 Honestly, we wondered. Ford had long said that Solo was a character that didn't have much to offer and that it was unlikely he would ever return to it. Ford even recently stated that he was more likely to don the Indiana Jones Fedora hat again before picking up Solo's blaster.
But, there is something in the script by Abrams and Lawrence Kasdan that has called to him. And thank goodness it did. Can you imagine a Star Wars: Episode VII where much of the story centers around Solo (and we're guessing Leia as his wife) and their lives 30 years after Return of the Jedi ended? We can, especially given that the latest trilogy is said to focus on Leia and Solo's children and the rise of a new enemy using that pesky dark side of the force.
Ford has also said that he wishes that Lucas had killed off Solo in a blaze of glory. What better way to achieve that wish than to have a meaty role in Star Wars: Episode VII, get killed off in the end by someone wielding the dark side anew, and motivate your children to extol justice?
Start. Printing. Money.