Star Wars Episode VII: Why Are Mark Hamill, Harrison Ford & Carrie Fisher All in London?
by Joel D Amos at . Updated at . Comments
So, we know from that Carrie Fisher interview that she is planning to join her Star Wars co-stars Harrison Ford and Mark Hamill in Star Wars: Episode VII. But, no word from Lucasfilm, J.J. Abrams or anyone in the Disney camp -- not even a denial!
Now, London is abuzz as Hamill, Fisher and Ford have all been spotted in the British city, merely miles away from where Abrams will be filming Star Wars: Episode VII at Pinewood Studios. Think that's a coincidence? That is not likely.
Hamill was even spotted out with Peter Serafinowicz, the voice of Darth Maul in The Phantom Menace, who took to Twitter to announce his companion for the evening. "Met up with @HamillHimself in London today. I wonder why he's here?" He even posted a pic: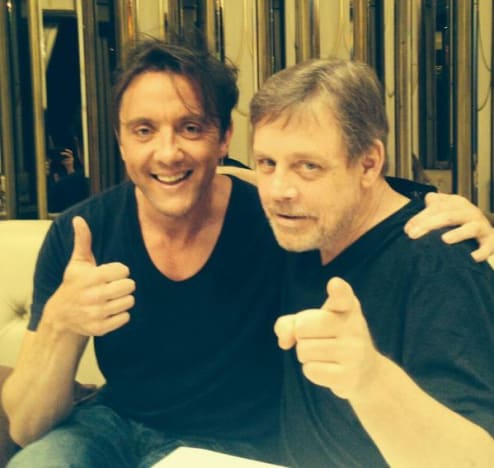 Is it us, or does Hamill look like quite the Jedi master with that beard?
We know filming is starting soon. We know that casting has not been announced. We do know that Star Wars: Episode VII will be returning to Hoth (filming in Iceland) and Tatooine (with filming in Morocco & Abu Dhabi). Those locales tell us that Han, Luke and Leia will be in this film. And the fact that they're in London, well, let's let that speak for itself until we have some news from Lucasfilm!
Maybe, just maybe, we'll get some official confirmation about casting on Star Wars day, aka May the Fourth.