The Legend of Hercules DVD Review: Kellan Lutz Goes Mythic
by Joel D Amos at . Updated at . Comments
The Legend of Hercules lands on DVD, Blu-Ray and digital download and as fans gear up for the Dwayne Johnson version of Hercules arriving this summer, it might be nice to check this flick out to see how the legend got started.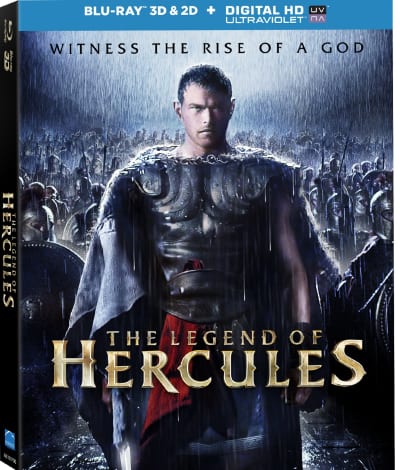 Johnson's tale finds the mythic hero later in life having to rediscover his moral compass. But in The Legend of Hercules, star Kellan Lutz is not quite the Hercules we recall from mythology. This is a true origins story in the purest sense.
We learn early on that Hercules' birth is divine (from the god Zeus) in that his mother is pregnant and it is not from his rule with an iron fist regal father. The king makes it clear to his queen that that child will never rule and, in fact, their life will be quite like hell.
Lutz makes a convincing Hercules and watching him grow into the legend of the title is actually quite interesting as a character study. What fails him is the overall story and direction from Renny Harlin. The story kind of plods along and never really builds to anything remotely close to the promise of the premise.
As teased in The Legend of Hercules trailer, Lutz has grown up and is essentially treated like the bastard child instead of the prince that he should be. His brother is the one promised the throne, and when it appears that a regal transition is within sight, Lutz's character is sent off to a war that is essentially a suicide mission. But, it is in that battle that he finds his true strength and the first sign that he's Hercules comes to light.
He will learn of his powers and begin to channel what it is that will make him a half-human, half-god soul to be reckoned with.
This is Lutz's movie from beginning to end. And if anything, he establishes himself as someone who can take the action hero crown if it is something that he wants.
When it comes to bonus features, The Making of The Legend of Hercules documentary has to be the big selling point here. It features Lutz and Harlin talking about the challenge of bringing this story and this character to the screen. It is a sword and sandals epic and as such, the behind-the-scenes featurette explores the themes that make that subgenre of action one that so many adore. The fact that the "making of" actually is more interesting than the film itself is a problem.
But, for fans of the Hercules myth, the film's journey should be an interesting one. Given that this is truly Lutz's film, his audio commentary (with director Harlin) is also fascinating.
Discover the film and watch The Legend of Hercules online now.