When it comes to home videos that the kids will want to play over and over again, boy, do we have one with the arrival of The Nut Job on DVD, Blu-Ray and digital download. The film features the voice talents of Will Arnett, Katherine Heigl and even Liam Neeson!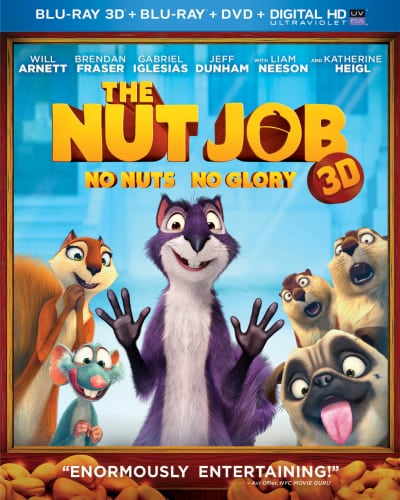 Arnett stars as Surly, a squirrel who when we meet him at the beginning of the movie, is happier going about his business solo. Sure, that doesn't sit well with the animals of the park as they are trying desperately to gather enough nuts to get them through the upcoming winter. 
As teased in The Nut Job trailer, Surly has a plan to rob a nut store on the edge of the park. Heigl knows all too well that there will be enough nuts in that store for everyone. Despite their differences, Arnett and Heigl's characters know that if they work together, the plan has a higher chance of success.
As we stated in our theatrical The Nut Job review, the film knows its audience and its children. Adults will tolerate the film, but on home video, it's a chance for kids to dive into a world that is custom built for them.
Parents will also adore the messages of working together, family and community that permeate throughout.
When it comes to bonus features on The Nut Job DVD and Blu-Ray, the younger viewers will surely treasure Storyboards. It is an entertaining and enlightening look at how an animated movie comes together. And if they adore animation in general, Storyboards is a priceless look at how the magic happens.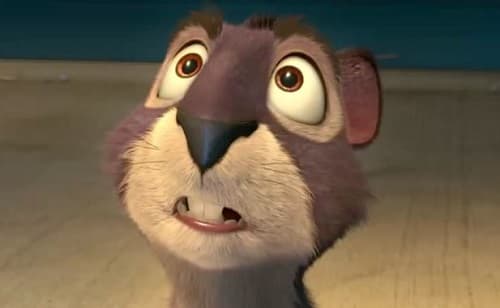 The deleted scenes are also fun in that their love of the movie will only be compounded by the additional scenes of their favorite park characters in clips that didn't make the film's final cut.
We adored The Great Nut Heist, a featurette where star Arnett narrates the heist at the heart of the movie. In many ways, it is a heist movie above all else and for the littlest heist movie fans out there, The Great Nut Heist will be pure gold.
In that vein, Nuts & Robbers is a never-before-seen animated short where Surly and Grayson (Brendon Fraser) stumble upon a bank heist gone wrong. It is, in a word, adorable.
And lastly the kids will want to watch Surely Squirrel, the award-winning animated short where the Arnett character first announced himself to the world. And as we're gearing up for The Nut Job sequel, it's nice to see where it all started.
Eager to show off the flick to the kids? We have it for you right now! Watch The Nut Job online.