The Nut Job stars the voice talents of Will Arnett and Katherine Heigl as a couple of squirrels who are just, well, trying to get a nut. The film has arrived on DVD and Blu-Ray and Movie Fanatic is giving away two copies of the Blu-Ray/DVD combo pack to two lucky readers.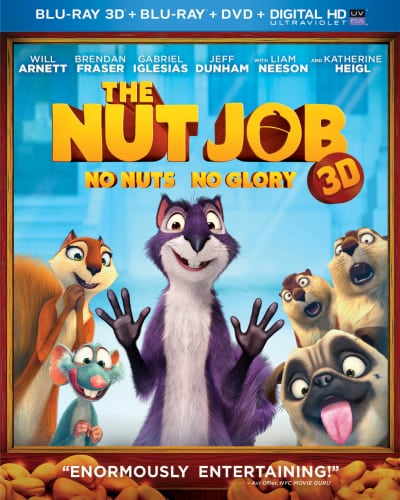 As teased in The Nut Job trailer, Arnett is kind of a go-it-alone kind of guy and that doesn't fit in well with the animal community at the local park.
See, winter's coming and they have to secure a fair amount of nuts for the upcoming colder months and Arnett's selfishness is just getting in the way. 
When he connects with Heigl's character, they come up with a scheme that is -- on paper -- brilliant. There is a nut store on the border of the park and they are going to rob it blind... that is if they don't drive each other "nuts" along the way. See what we did there?! 
The film was such a success, we're getting The Nut Job 2!
Stay with Movie Fanatic for our full The Nut Job DVD review on April 15, and if you're curious about the film, you can watch The Nut Job online! 
To enter, use the widget below to enter on Facebook or Twitter. There are three unique ways to enter, and by entering all three ways you can increase your chance at winning!