The Quiet Ones Exclusive: Cast Chats Why We Love Horror Movies
by Joel D Amos at . Updated at . Comments
The Quiet Ones, based on a true story, takes audiences on a terrifying journey into one scientist's effort to create a poltergeist and in the process rid the world of all those supernatural scares.
It stars Jared Harris (Sherlock Holmes: Book of Shadows) as the professor and he is joined in the effort by Sam Claflin, who plays the filmmaker charged with chronicling the experiment, and Olivia Cooke as Jane -- the woman who appears to be possessed by an entity named Evie.
We caught up with Harris, Claflin and Cooke and in light of all the success horror movies have had over the years, we wondered if they -- after starring in one -- had any idea why it is that with so much real fear out in the world, we as an audience voluntarily head into the dark to be terrified.
"You're in a safe environment," Cooke said. 
"It's safe danger," Claflin added and laughed.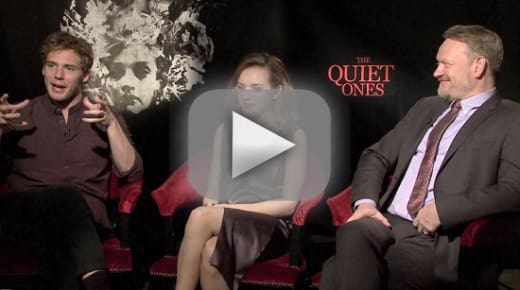 Harris concurred. "You survive to tell the tale," he said.  
Check out The Quiet Ones trailer and be prepared to be scared as the film hits theaters April 25.
And watch Sherlock Holmes: Game of Shadows online to witness Harris in one of his best roles as Moriarity.