Scarlett Johansson is in two movies out this weekend. The first, as you can see from our Captain America: The Winter Soldier review, is absolutely astounding and we call it the "best Marvel movie ever." The second is Under the Skin, and it could not be more different.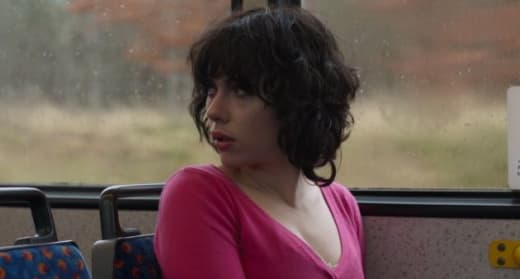 As teased in the Under the Skin trailer, Johansson stars as a… something. We're not sure what she is, but she is definitely not human. We don't want to spoil anything, so that's about all we'll say about her character – other than she is a cold-blooded killer who stalks, targets and kills single men with no family or friends. Why, you ask? Well, that's central to the plot and also plays significantly into the title of the film itself.
The film is from Jonathan Grazer (Sexy Beast), from a screenplay by Walter Campbell, based on the chilling novel by Michael Faber. It takes place in Scotland, and the landscape is beautifully shot and a stark contrast to what is going on in this picture.
The audience will spend most of this film trying to figure out Johansson's motivation, and for that, we give the filmmakers the utmost of credit. It is disturbing to watch, but yet you cannot look away. There are numerous scenes that are absolutely gorgeous, yet what is going on during these scenes is an absolute horror show. Under the Skin is one of those movies that you will not soon forget, and in fact, there are numerous images that will haunt you for weeks to come. We can think of several right now that still haunt our dreams.
Johansson's character lures these men through the promise of sex and it winds up being their demise. They believe they are getting as lucky as can be and are truly the most unlucky of souls on the planet at that particular moment. Again and again, you will ask why -- and even though we have seen the film, there still is no answer.
And that is the magic and the detraction of Under the Skin.
Movie Fanatic does not need all of our films to provide answers to all the questions. But, our Under the Skin review finds that there are absolutely no conclusions to be drawn from what is seen. In many ways, Glazer deserves credit for that. But with one line of dialogue, a motivation could have been more firmly established.
This is not a film that feels like its character kills for no purpose at all. There are plenty of those, but Under the Skin is not it. As the film's final credits roll, the viewer will likely find (and need) some sort of something to try to make it all make some sort of sense.
But then again, if you think about it, no killing makes any sense.