X-Men Days of Future Past: Just A Beginning For Patrick Stewart's Professor X?
by Joel D Amos at . Updated at . Comments
We all know, heck, simply watching that final X-Men: Days of Future Past trailer, that this latest film in the franchise features the return of Patrick Stewart as Professor X -- that and his real life BFF Ian McKellen as Magneto. But, is that just the beginning for Charles Xavier heading into the future?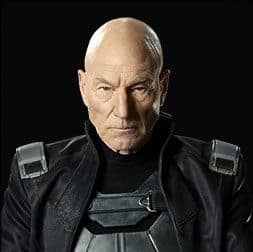 "I don't see why not. That is one of the blessings about fantasy and science fiction," Stewart teased in an interview with MTV.
"You're never really dead. I would love to come back and do some more."
We already know that the film after X-Men: Days of Future Past, X-Men: Apocalypse, will primarily focus on the team from X-Men: First Class, such as James McAvoy's Xavier, Michael Fassbender's Magneto, Jennifer Lawrence's Mystique and Nicholas Hoult's Beast. But, knowing how this world is so fluid, it is possible there is more Stewart playing Professor X coming our way.
"There might be something else. A little bird has whispered that there might be something X-Men related."
Well, Stewart would know, wouldn't he?
As we await X-Men: Days of Future Past's May 23 release date, why not go back to the beginning for Stewart's Professor X and watch X-Men online.