3 Days to Kill finds Kevin Costner back to playing the lead in an action flick, but what's so refreshing is that he's not exactly the wearing the white hat type of action hero. Costner is a dying from a rare cancer CIA assassin (is he one of our 15 most killer movie assassins?) who is forced to retire.
He heads to Paris to reconnect with his ex-wife and daughter in his final days when Amber Heard's agent has other plans. She wants him to do one more job and she promises she has the cure for what ails him.
The film is out now and the 3 Days to Kill DVD, Blu-Ray and digital download arrives on home video with an extended cut that plays better than the version viewers saw in theaters.
3 Days to Kill's action sequences are pretty intelligently drawn out and executed by a star who is quite familiar with the genre, as teased in the 3 Days to Kill trailer. But, what is the standout aspect of the film is the touching and tenuous relationship between Costner and his onscreen daughter played by Hailee Steinfeld.
He and the young Oscar nominee have a back and forth (which we explore further in our theatrical 3 Days to Kill review) that is believable and it allows the audience to get further inside the head of the trained killer as he inhabits the role of father that up until this point, he has not been that good at playing.
Costner is terrific in the role and we hope that the lack of success that the film had in theaters doesn't prevent him from taking other action parts that fit his age and talent.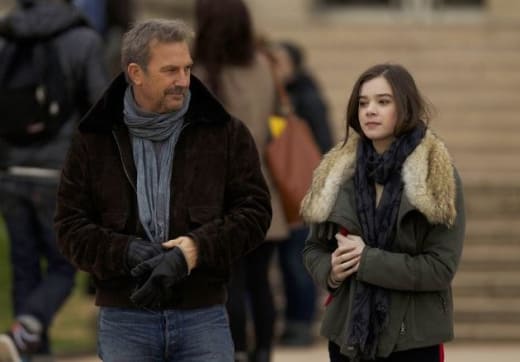 Heard, on the other hand, has the talent to pull off the ice queen role, but given the script she has to work with, there is not much more she can do to further expand the one-dimensional character that seems like she's imitating some sort of femme fatale from a bad French film.
The bonus features are led by that extended cut, which allows the viewer a fuller version of the story than the theatrical edit. The Making of 3 Days to Kill is fascinating if for no other reason than it explores the making of a Hollywood movie on the streets of Paris. It also gives us an unfiltered look at the process employed by a superstar in Costner who has been making movies for over three decades now.
Lastly, The Covert Operation bonus featurette is a joy to witness as it truly captures what it is about spy-assassin movies that audiences adore.