300: Rise of an Empire has announced its release date for home video options, as well as the bonus features that will take viewers behind the scenes of the epic Zack Snyder-produced action epic. Fans can own 300: Rise of an Empire on Blu-Ray 3D combo pack, Blu-Ray combo pack, 2-disc DVD special edition and digital HD on June 24.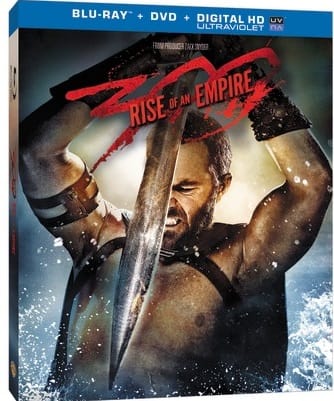 As we stated in our theatrical 300: Rise of an Empire review, the look and feel of the sequel to 300 matches the original and that is a very good thing. Although Snyder is now just a producer and Noam Murro is director, not much is lost in the visually stunning department.
Audiences will see that when the flick lands on the various home video formats on June 24 with a bevy of bonus features that will surely please the legions of 300 fans who have cherished the franchise since discovering those 300 quotes.
300: Rise of an Empire stars Sullivan Stapleton as Themistocles and Eva Green as Artemisia, and to say they are adversaries is one gross understatement. Green is the leader of the Persian army and she is possessed with the notion of completely destroying Greece. She will not rest until "it burns." Meanwhile, Stapleton stars as a leader of a Greek army who believes that unless the city states of Greece unite, Artemisia will get her wish.
Lena Headey is back from 300 as the Spartan Queen and she is hesitant to get behind Themistocles as she is still mourning her husband (Gerard Butler) who perished in the first movie at the hands of the Persians.
Another aspect of this flick that is stunning is the action that has shifted to the high seas. It is a visual marvel.
Warner Bros. released the list of bonus features for 300: Rise of an Empire and they are impressive:
The 300 Effect
3 Days in Hell
Brutal Artistry
A New Breed of Hero
Taking the Battle to the Sea
Real Leaders & Legends
Women Warriors
Savage Warships
Becoming a Warrior
See how this world got started and watch 300 online!