Batman vs. Superman: Zack Snyder Presents His Batmobile!
by Joel D Amos at . Updated at . Comments
You remember that line from The Who song where they sing "meet the new boss, same as the old boss?" Well, that could apply to the picture that Zack Snyder just posted on his social media pages teasing his new Batmobile for Ben Affleck as Batman.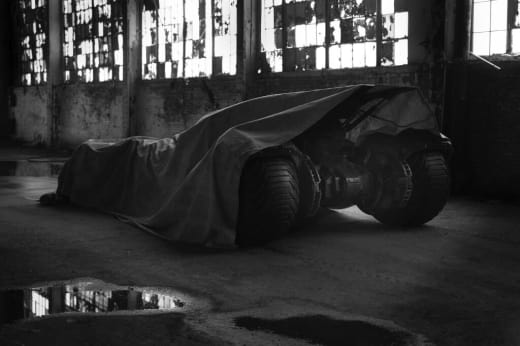 We say that because, and maybe it's just us, but the Batmobile for Snyder's Batman vs. Superman looks an awful lot like the Bat Tumbler from Christopher Nolan's The Dark Knight trilogy.
Hey, that's fine and we have no problem with it. If it works, don't fix it!
Snyder is set to start filming Superman vs. Batman any week now. And with the cast filling out with not only Batman in the Man of Steel sequel, but also Gal Gadot as Wonder Woman and Ray Fisher as Cyborg, that ought to be one table read we'd like to be a fly on the wall for!
Get ready for the sequel and watch Man of Steel online! Now, if we could just get a pic of the new Batsuit, we'd be happy as pie.
And speaking of Batman, here are our favorite quotes from the Dark Knight himself!