It is official! Harrison Ford has been offered the role he made famous in 1982 with his portrayal of the iconic character of Rick Deckard in Blade Runner. Alcon Entertainment (who works closely with Warner Bros. and has given us films such as The Blind Side and the upcoming Point Break remake) has announced that they have settled on a script, Ridley Scott will return to direct and they want Ford to return as well.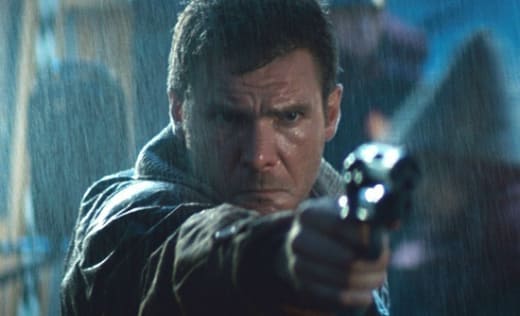 They even have the original screenwriter, Hampton Fancher, co-writing the script with Michael Green!
The film will take place 30 years after the first. The Alcon execs who are overseeing the project, Andrew Kosove and Broderick Johnson, couldn't be more excited and sure hope that Ford will return to a role that he has said he holds dear.
"We believe that Hampton Fancher and Michael Green have crafted with Ridley Scott an extraordinary sequel to one of the greatest films of all time. We would be honored, and we are hopeful, that Harrison will be part of our project," they said in a joint statement.
That's an interesting way to get a movie star to take a part -- to release a statement!
The original Blade Runner is considered to be one of the best sci-fi films of all time, and many (including Movie Fanatic) think of it as one of the best films of all time. The United States National Film Registry at the Library of Congress sure thinks so; they selected the film for preservation in 1993.
Watch Blade Runner online and prepare to join in the chorus to get Ford to reprise his role. We think he will, as his sense of nostalgia seems to be strong as he is set to return as Han Solo in Star Wars: Episode VII.