Her may have surprised some when it scored a Best Original Screenplay Oscar for writer-director Spike Jonze. But, we were not one of those. As we stated in our theatrical Her review, it is the most original of love stories that we have seen in decades. And now, Her is available on DVD, Blu-Ray and digital download.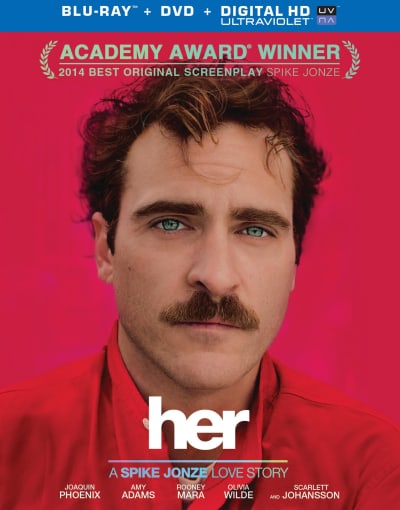 Joaquin Phoenix stars in Her as a lonely man named Theodore living in LA in the near future. As we meet him, he is just coming out of a serious relationship that he still clings for with Rooney Mara (seen mostly in flashbacks). He goes about his days as a letter writer (no spoilers here, you have to see the movie, but we'll say this -- what an original idea!). He is friendly with his neighbor (Amy Adams), but overall, this is a man who is deeply in need of companionship.
And considering he pens letters for people who are expressing their feelings towards others, it seems like a sad existence at times.
As seen in the Her trailer, Theodore upgrades his home operating system with a program that promises to help run your life, your living space… everything! As the software finishes loading, the voice introduces herself – and it's the voice of Scarlett Johansson.
The system is beyond interactive and also self aware and capable of immeasurable artificial intelligence. And it becomes quickly clear that Johansson's operating system and Phoenix's Theodore are growing close. Through him, she sees a life that lives and breathes. Through her, he sees a life that is bereft of loneliness.
Her is beyond powerful and Movie Fanatic could not be more thrilled with its arrival on DVD, Blu-Ray and digital download so that a wider audience can appreciate Jonze's magical touch. And like Jonze himself, the bonus features are unique and undeniably come from a visionary filmmaker who appears to be just starting to scratch the surface of potential.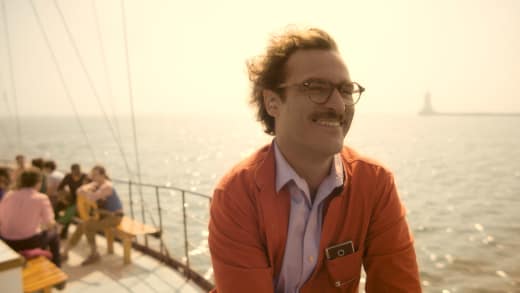 Our absolute favorite is Her: Love in the Modern Age. Given that this is a love story, albeit an unconventional one between an operating system and a human being, the featurette looks at what love is, especially in our modern world. If you thought Jonze was wildly original from this film and his past works, just watch this bonus feature and prepare to be dazzled at the man's immeasurable insight into the ways of the human heart and how it already is interconnected with technology.
How Do You Share Your Life with Somebody is another fascinating bonus feature that is clearly from the wickedly creative mind of Jonze (its title comes from one of our Her quotes). It is another not your run of the mill bonus feature that explores the "making of" the movie. Her itself is a thought-provoking movie and its bonus features clearly continue that – as seen in How Do You Share Your Life with Somebody.
Lastly, there is The Untitled Rick Howard Project. You'll get no details here other than a note to watch it! It's pure Spike Jonze and will have to hold us until the Oscar winner gives us his next stroke of brilliance. 
After reading this review, you might want to see this film right now! We got it -- so watch Her online!