How to Train Your Dragon Collector's Edition DVD Review: An Animation Must-Own!
by Joel D Amos at . Updated at . Comments
With How to Train Your Dragon 2 hitting theaters June 13, DreamWorks Animation is releasing a truly special version of the original film on home video.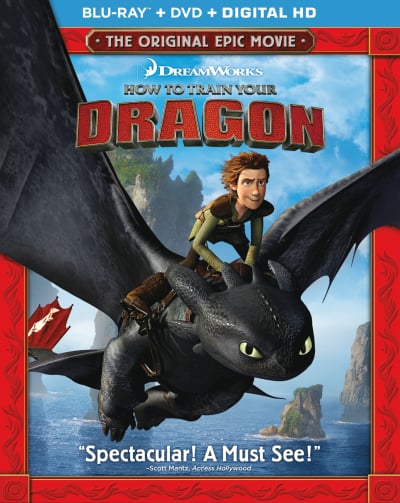 The How to Train Your Dragon Collector's Edition DVD and Blu-Ray is out now which reminds us why we adore this film so much and much of it has to do with the touching relationship between the human Hiccup (Jay Baruchel) and his dragon pal, Toothless.
As DreamWorks Animation so perfectly puts it, this How to Train Your Dragon collector's edition is loaded with "Viking-sized" bonus features, and the best part of all of it is the sneak peek full episode of the hit television series DreamWorks Dragons: Riders of Berk.
The Blu-Ray Combo Pack of How to Train Your Dragon features more than 90 minutes of bonus features that have never before been seen including some stellar behind-the-scenes footage and interviews with the cast including Baruchel, America Ferrera, Craig Ferguson and our favorite Viking, Gerard Butler.
Don't miss the Legend of the Boneknapper Dragon animated adventure that features the film's original voice cast. Kids (and adults!) will surely adore that animated short, as well as deleted scenes from How to Train Your Dragon, and we cannot recommend enough the audio commentary by Baruchel and director Dean DuBlois. Those two are keenly on the same page throughout this production and are largely why this entire project even became such a success.
We also appreciated the Ultimate Book of Dragons featurette, especially given that How to Train Your Dragon 2 trailer and how the world of dragons and Berk seems to be expanding.
The How to Train Your Dragon trivia is a nice addition, especially since the film has been out for several years and we guarantee that just a few hundred thousand kids have watched it enough times to be fluent in those How to Train Your Dragon quotes!
Lastly, a bonus feature that is sure to be a treat for the kids will be the tutorial on drawing their favorite dragon, and that of course is Toothless.
Watch How to Train Your Dragon online to get ready for the big sequel landing June 13, and click through all of our How to Train Your Dragon 2 photos!