Interstellar: Movie Trailer Details & Movie Description Revealed
by Joel D Amos at . Updated at . Comments
That first Interstellar teaser did not really divulge too much information about the next film from Christopher Nolan. We have word that the film's first trailer will premiere before Godzilla when it storms into theaters May 16 and now we even have a description of it which gives us a better idea what the film that is cloaked in mystery is all about.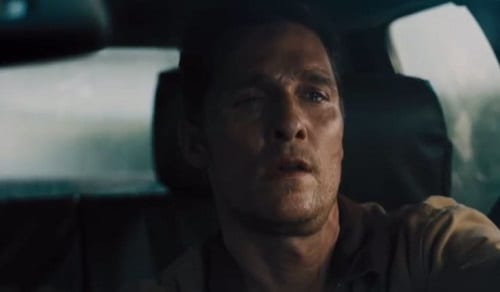 The Washington Post has seen a piece of the trailer, which is playing at an IMAX theater in our nation's capitol. They say:
"The trailer unspooled to show Matthew McConaughey driving his truck through corn fields while a lush orchestral score swelled in the background. Later, the fields had caught fire, an ominous dust cloud could be seen looming over a baseball game, and McConaughey (playing a character named Cooper) was reassuring his daughter that he loved her -- right before being shot into space in order to save the world."
Interstellar lands November 7 and features Matthew McConaughey, Jessica Chastain, Anne Hathaway, Topher Grace, Matt Damon, Bill Irwin, John Lithgow, Mackenzie Foy, Casey Affleck and Wes Bentley.
We also finally have a tagline! "Mankind was born on Earth. It was never meant to die here."
While we calm down from the anticipation for Nolan's latest, watch The Dark Knight online to witness one of his greatest!