Labor Day is the latest flick from filmmaker Jason Reitman, who has more than scored in his work from Juno to Up in the Air. As Labor Day lands on DVD, Blu-Ray and digital download, the helmer explores the unlikely romance that develops between Josh Brolin's escaped con and Kate Winslet's lonely single mother.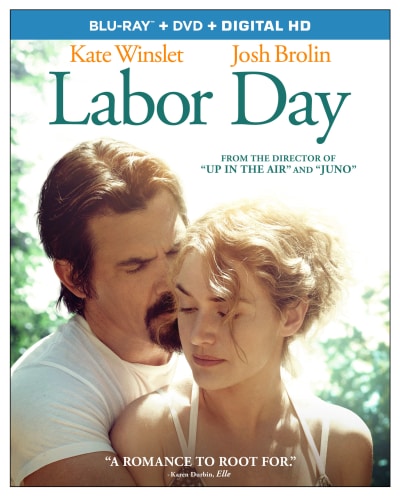 Labor Day largely works, as we stated in our theatrical Labor Day review. The thing that truly makes this flick worthy is the performance by Brolin and Winslet. But, it is the most oddly compelling love story we've seen in some time.
Brolin is an escaped convict. He leaps out of a second story window in a jail hospital and limps into Winslet's life. She is doing her best to raise a teenage son and when their worlds collide, it is due to Brolin, in a sense, taking her and her son hostage while he waits for the heat to die down as cops search their small New England town for him.
Winslet plays the role of scorned mother well. And her son Henry (played by an outstanding Gattlin Griffith) is doing his best to be the man of the house as his mother often has trouble even leaving their home. But on this fateful day when they take their once a month visit to the store, Brolin is waiting for them and their lives will change forever.
Over the course of Labor Day, Winslet and Brolin slowly fall in love -- in spite of the odds against them.  
This is truly Reitman's baby and it clearly has his loving touch all over it. When it comes to the bonus features, we have to start with the audio commentary track with Reitman, his DP Eric Steelberg and his first assistant director/co-producer Jason Blumenfeld. It's fascinating to see their various takes on this film that would be a tough sell without their collective talent at putting it together.
The making-of doc, End of Summer: Making Labor Day, also gives further insight into the filmmaking process of Reitman and his team and shows how extraordinarily gifted the man is. And we have a feeling with his filmography so far, this man is just getting started. 
You can check out the film right now -- watch Labor Day online.