Channing Tatum could not be more thrilled with the news today for his sequel to Magic Mike, tentatively called Magic Mike XXL. It seems, through major begging on Tatum's part, that the original film's director -- Steven Soderbergh -- will be back in some capacity.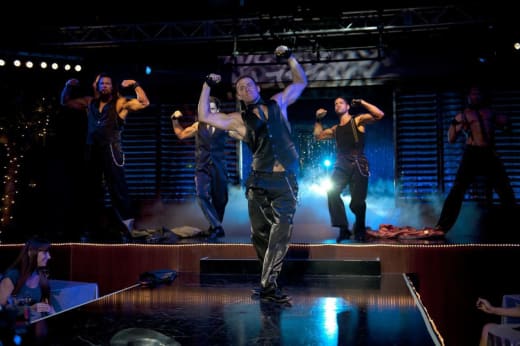 "I lobbied probably harder than anybody else. We had many, many nights of heated debate. I was, 'I don't (expletive) get it! Why?' And he's like, 'I don't need it,'" Tatum told GQ.
But it turns out that they reached a deal where Soderbergh doesn't have to helm, but can still be heavily involved. "I want to be there but I don't want to be the director. I want to be a part of it," Soderbergh added.
"I want to be in the band, but I just don't want to be the frontman this time."
The production has hired Greg Jacobs to helm, and it appears that Soderbergh will be a second unit director, cinematographer and editor.
But, what is the plot for the Magic Mike sequel? Tatum shares what he can.
"It's an incubator for insanity," said Tatum of a stripper convention he attended in Raleigh, North Carolina back in the day.
"It doesn't matter almost what you do onstage. I don't want to put anything in black and white on a page, but if you've been to one, you know how crazy it gets -- and now pour kerosene on that," Tatum said. "You've seen Magic Mike. Now multiply that. Mob mentality. It's just exponentially crazier. I thought it was absolutely insane."
See how the whole magic started and watch Magic Mike online.