Million Dollar Arm Exclusive: Lake Bell Shares Jon Hamm's Surprise Talent!
by Joel D Amos at . Updated at . Comments
Million Dollar Arm star Lake Bell visited with us for an exclusive video interview, and we had to start by asking her to give us something unique about her co-star, Jon Hamm.
It seems that Hamm loves computer games. "He plays Candy Crush all the time. Nobody knows that," Bell said. "You don't think of Don Draper being like crushing candies! He knows techie games."
As seen in the Million Dollar Arm trailer, the true story follows Hamm's sports agent as he heads to India in search of the next great major league pitcher. Bell portrays his guest house renter -- and potential love interest -- and had a front row seat to the movie's magic.
Bell also shares her delight in finally appearing in a Disney movie. "I am so thankful that this is a project that I can have any family member in any age range -- anyone can see it and be moved. And… they'll probably cry at the end."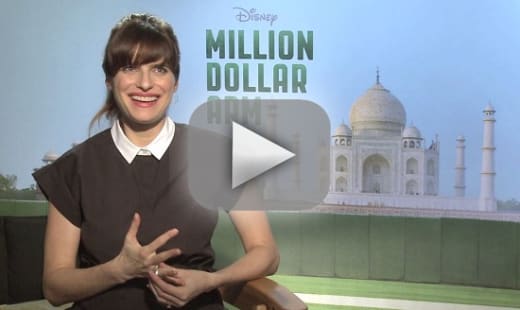 Bell does! "I will cry every time I see this movie," she admitted. "Even if you don't know diddy about baseball, which I do not, in a sports movie you relate to the physical, raw talent -- that, and hard work that someone has to endure to get to that space."
She also updates us on if she's working on something to follow up her writing-directing-starring charmer In a World!