Million Dollar Arm Exclusive: Mad Men's Jon Hamm Pitches Something New
by Joel D Amos at . Updated at . Comments
Million Dollar Arm star Jon Hamm talks exclusively to us about why the film was the perfect vehicle for him as his hit TV show Mad Men wraps up its successful run. 
As seen in the Million Dollar Arm trailer, Hamm is JB Bernstein, and his story is an extraordinary true tale. 
Bernstein is a sports agent who is about out of money. With his future teetering on the edge of a cliff, he came up with an outrageous idea that might just save his firm. He headed to India to start a reality competition called the Million Dollar Arm. Its goal: To find the next great Major League pitcher from a group of Indian athletes who are just slightly crazy about the game of cricket.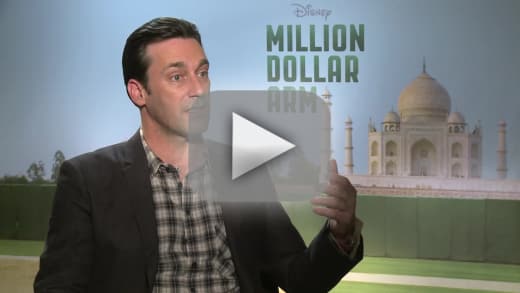 Hamm is joined in the cast by the always awesome Alan Arkin, as well as Bill Paxton and Lake Bell. 
Stay with Movie Fanatic all week for all our exclusive interviews with the entire Million Dollar Arm cast -- and even the real life Bernstein and the hotshot pitcher he discovered!