Million Dollar Arm Exclusive: Meet the Real Guys That Inspired the Disney Movie!
by Joel D Amos at . Comments
Million Dollar Arm is set to rocket into theaters like a Major League Baseball pitcher's fastball May 16 with its emotional powerhouse performance by Jon Hamm.
As teased in the Million Dollar Arm trailer, Hamm portrays JB Bernstein, a sports agent whose agency was on its last legs when he came up with a wild idea.
Why not head to the cricket crazy country of India and try to find the next great baseball pitcher as part of a reality competition called the Million Dollar Arm?
And you know what? It worked! 
We caught up with the real Bernstein and one of the two prospects that became Major League Baseball players, Rinku Singh, for an exclusive interview to chat about what it meant to have their story brought to life in a Disney movie.
"It's surreal," Bernstein said. "That's probably the best word for it."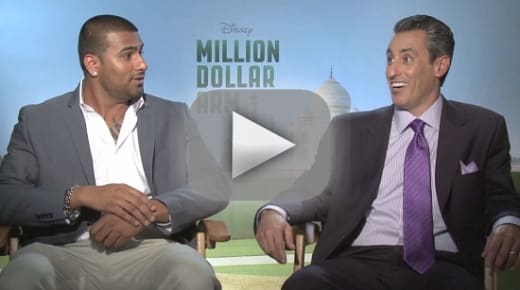 Singh also let us know how the film brought him back to a place that allowed him to reflect on how far he's come and without giving away too much from the film -- how the final shot of the movie inspired him anew.