Moms' Night Out has the right idea for a film that simultaneously is a comedy and salutes what mothers do for our entire society. Unfortunately, the film starring Sarah Drew and Patricia Heaton does not quite get there with either front.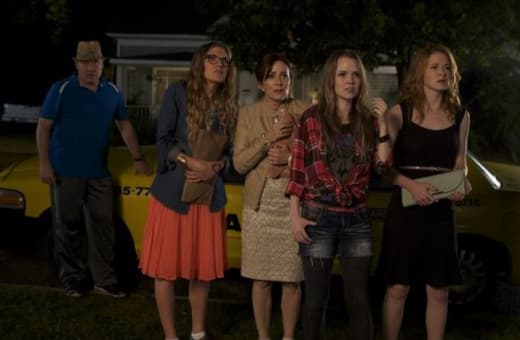 Drew is a mom, Allyson, who is trying to start her own mommy blogger site. It's not going so well and she doesn't have many followers. She feels it's because she has nothing to say.
Allyson is happily married to Sean (The Lord of the Rings trilogy and The Goonies' Sean Astin) and takes utter delight in raising her kids. But, at the end of the day, she has nothing left. Heck, by lunch she is feeling burnt out. Sean has a thought. Why don't Allyson and a few other moms (including Patricia Heaton and Logan White) go out for the night and just be women having fun? The husbands will take care of the kids so that they can all simply not be a mom for one night.
Simple enough, right? Not so fast…
Moms' Night Out turns into a free-for-all of comedy stereotypes including a missed reservation at the town's hottest restaurant and all the trouble that causes, a stolen car, a lost child and a run-in with a tattoo parlor owner who spouts scripture (Trace Adkins). And yes, they even end up in jail.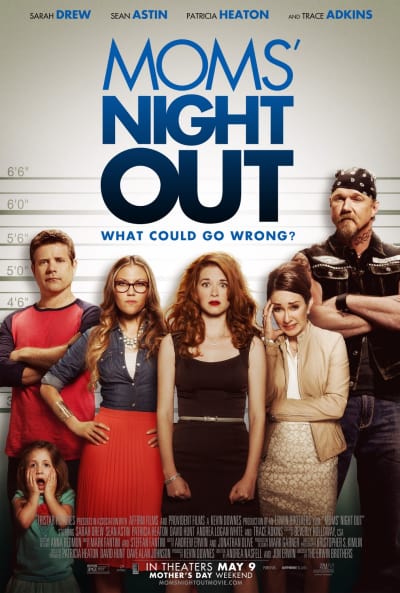 Drew is solid in the role and she does great things with the little she is given. And Heaton is the all-star here, and that should hardly surprise anyone who has seen the actress' work over the years on television. But see, that's the thing. Moms' Night Out feels like a TV sitcom that stretched itself out for an additional hour.
It seems to want to be filled with messages that inspire, but unfortunately, they never land. And what's worse, it is littered with a Christian, bible-quoting theme that comes in at some of the oddest places. We have no problem with inserting faith into a comedy about mothers, or in any movie, for that matter. But, Moms' Night Out tosses in its religious lessons in the most random of ways.
Our Moms' Night Out review believes that there is a solid movie in this concept. It could be kind of a Mother Knows Best meets The Hangover (minus its raunch). The problem here is that Moms' Night Out hits the road for a good time, never knowing its destination. 
For a movie that celebrates a great mom, why not watch Forrest Gump online!