Speed Double Pack Exclusive Giveaway: Win Both Movies!
by Joel D Amos at . Updated at . Comments
It is the 20th anniversary of the release of Speed (really, 20 years?!). And to celebrate, we've giving two lucky readers each a Blu-Ray copy of the Speed 20th Anniversary 2-pack which features the original starring Keanu Reeves and Sandra Bullock and the sequel starring Bullock and Jason Patric.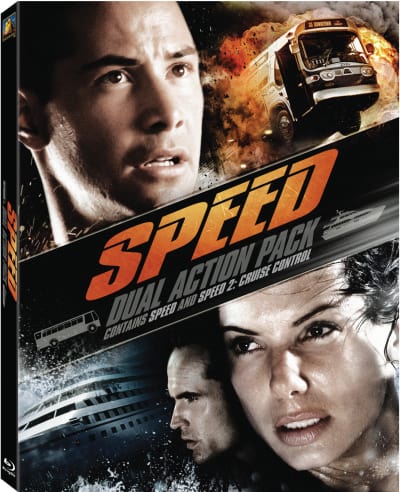 The first Speed landed two decades ago and immediately made a splash as one of the 19 action movies that changed everything by seriously pushing the boundaries.
Bullock found herself with her car in the shop and riding the bus to work in Los Angeles. Then, wouldn't you know, the bus is taken over remotely by a madman (Dennis Hopper) who has put a bomb on it that will explode if the bus' miles-per-hour goes below 55. Quite a concept, no?
The film was an international smash and made a huge star out of Bullock and only increased Reeves' star-wattage with his turn as the heroic cop who saves the day (with a killer supporting turn from Jeff Daniels).
Speed 2 arrived several years later and featured Bullock in a similar situation, but this time it was on a boat during the high season and the cop hero was played by Patric.
To enter, use the widget below to enter on Facebook or Twitter. There are three unique ways to enter, and by entering all three ways you can increase your chance at winning!
And if you don't win, we cannot recommend this film enough -- so watch Speed online and witness the movie magic.