Star Wars Episode VII: Read J.J. Abrams' Note to Cast & Crew
by Joel D Amos at . Updated at . Comments
As we saw from the Star Wars: Episode VII set photo that posted last week, J.J. Abrams has started filming his sci-fi epic.
And we know from the Star Wars: Episode VII cast announcement who has filled out Abrams' cast, including returning heroes Mark Hamill, Harrison Ford and Carrie Fisher.
Abrams wrote a note to everyone involved in the film and we've got it below!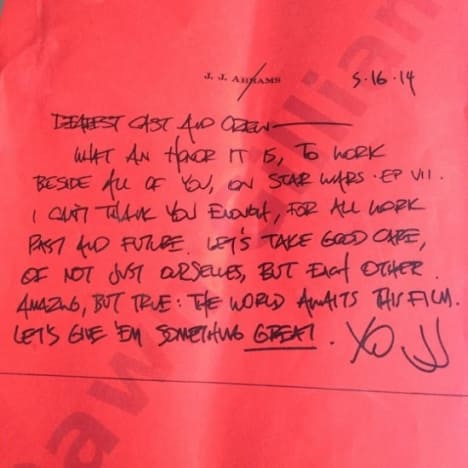 In it he has some truly kind words that could be relevant to anything that anyone does. But we especially like this quote.
"Amazing, but true: the world awaits this film. Let's give 'em something GREAT."
We sure hope so!