The Goonies Sequel: Sean Astin & Corey Feldman Say "It Will Be"
by Joel D Amos at . Updated at . Comments
Recently director Richard Donner set off a seismic earthquake when he announced that The Goonies sequel was coming. He then followed up that news with word that Steven Spielberg had a The Goonies sequel story.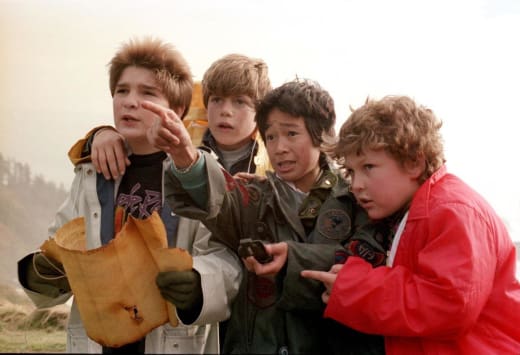 Now, the film's original stars – Corey Feldman and Sean Astin – are chiming in. The pair appeared on Huffington Post Live and gave us their two cents.
Feldman started with comments as to how the whole thing came about from where he is sitting.
"It's crazy. Dick (Richard Donner) makes this announcement, very haphazardly to TMZ, and gets the entire world excited about it and talking about it and then does nothing," Feldman said.
"Then a month goes by and then he makes another announcement that Steven's (Spielberg) involved and then does nothing. He kind of threw us under the bus a little on that."
To which Astin interrupts.
"No, no, no. I happen to know that they're actively trying to secure a writer based on an outline that they feel really confident about," Astin said.
"Dick wasn't going off half-cocked. It's just this has been a 29-year-in-the-making sequel that you've been as passionate and excited about as anybody. I'm sure when Steven -- who ultimately is the decision maker on this -- when he has felt the magic and Dick and he are in agreement, which I believe will happen, then it will be a thing."
Then Feldman revealed the magic words that every fan of those The Goonies quotes wants to hear. "Dick told me that they had (original writer) Chris Columbus back," he admitted.
Wonder what all the fuss is about or want to check back in with those gaga Goonies? Watch The Goonies online.