Walk of Shame: Sarah Wright Says Elizabeth Banks Made Her Feel Inadequate!
by Joel D Amos at . Updated at . Comments
Sarah Wright had a front row seat to the comic mastery of not only Walk of Shame star Elizabeth Banks, but comedy pro Gillian Jacobs and the surprisingly funny James Marsden.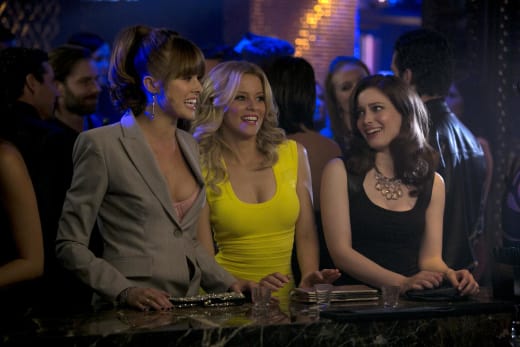 We caught up with Wright for an exclusive interview where she talks about how Banks made her feel like she's not doing enough with her life, how she screamed Enchanted quotes at Marsden and how she found a kindred spirit in Jacobs.
Wright plays one of Banks' BFFs who take her out on the town when she loses her fiance and a huge job opportunity. There, she hooks up with Marsden and while trying to leave his apartment, winds up having the most horrific (and hilarious) walk of shame home.
Movie Fanatic: As someone who has made a few comedies yourself -- like 21 and Over -- what did you take away from a comedy veteran like Elizabeth Banks?
Sarah Wright: She does so much. She's producing. She's going to direct Pitch Perfect 2. She made me feel like I haven't done enough. She's super-ambitious. I think it's so awesome that she has this creative side to her. I learned from her that I need to do a little bit more [laughs] with myself. She's so funny and she's amazing at improv. The whole reason I wanted to do this movie is I wanted to work with her.
Movie Fanatic: I've talked to many actresses over the years, most recently Kate Upton in The Other Woman about this. You have to be really smart to play someone that dumb. Your character isn't the brightest. Is it a challenge to navigate that without pushing it too far and losing audience sympathy?
Sarah Wright: I was careful about having her being too dumb. I didn't want her to be the stereotypical dumb girl. It was more fun for her to be surprising by saying inappropriate things and be drier with her humor. I tried to make her more subtle so it wasn't just right in your face. We were able to improv and the director allowed us to go off the page. It allowed me to add some flair to it. It was fun to make a dim character have a little something more.
Movie Fanatic: She's not the punch line, but she provides the punch line. Another actress who we love is Gillian Jacobs… I wish the three of you -- Gillian, you and Elizabeth -- had been together the whole movie. Were those some of the tougher scenes to get through without cracking up?
Sarah Wright: We had that scene that we shot in the living room. When I was watching it for the first time I noticed that there was a lot we shot that didn't get used. I hope, and I'm sure it will be because it was so funny, that a lot of that will end up on bonus features. I mean, I know if they left everything in it would be a four hour movie. Doing it was so much fun. The girls and I, we laughed non-stop. Gillian and I got along so well. She's so funny and smart. We loved being able to work off each other. The scenes in the car, there wasn't much there. James Marsden had that phone call, so Gillian and I just ripped. We went so far with it.
Movie Fanatic: I'm glad you mentioned the scene in the car because James is not thought of as Mr. Funny…
Sarah Wright: He's such a great straight guy! I'm a huge fan of Enchanted with Amy Adams. I was quoting that movie to him all the time. I just kept yelling Giselle at him! Because of that, we were singing songs and just being goofy. He's a charming, funny, sweet guy.