X-Men Days of Future Past Makes $111 Million: Weekend Box Office Report
by Joel D Amos at . Updated at . Comments
X-Men: Days of Future Past went north of Fox's hopes that it would make $100 million in its debut weekend. By the time the Memorial Day weekend comes to a close, X-Men: Days of Future Past will have made $111 million. That puts it at fifth place on the all-time Memorial Day weekend box office list. Not. Too. Shabby.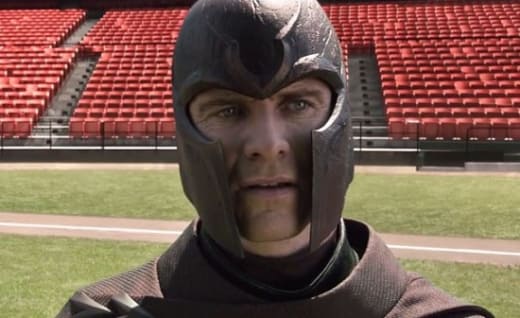 The other new movie to open this weekend, Adam Sandler and Drew Barrymore's third movie pairing, Blended, had to settle for third place and $18.2 million. Second place belonged to last week's champ, Godzilla. The big guy added another $39.5 million to bring its total to $156.8 million in two weeks.
Fourth place found the Seth Rogen-Zac Efron comedy Neighbors and its $17.2 million haul. That Nick Stoller-directed comedy has banked a total of $116.9 million, making it one of the most highly successful comedies of 2014.
Closing out the top five was another superhero movie, The Amazing Spider-Man 2. Andrew Garfield and company's second chapter in their planned four-movie series added another $10 million to its total take of $187.1 million.
And on a side note for all you comic book fans out there, X-Men: Days of Future Past is Marvel's eighth straight number one movie. That is quite a roll!
Box office top 10:
1. X-Men: Days of Future Past, $111 million
2. Godzilla, $39.5 million
3. Blended, $18.2 million
4. Neighbors, $17.2 million
5. The Amazing Spider-Man 2, $10 million
6. Million Dollar Arm, $8.5 million
7. The Other Woman, $4.6 million
8. Rio 2, $3.4 million
9. Chef, $2.9 million
10. Heaven Is For Real, $2.4 million
Celebrate X-Men: Days of Future Past's big weekend and enjoy our favorite movie mutants... ranked!