22 Jump Street Edges Out How to Train Your Dragon 2: Weekend Box Office Report
by Joel D Amos at . Updated at . Comments
It was thought that in the battle of the sequels, 22 Jump Street versus How to Train Your Dragon 2, that it would be close. Turns out, it wasn't really that close at all. 22 Jump Street scored a decisive win by coming in first with $60 million to How to Train Your Dragon 2's $50 million.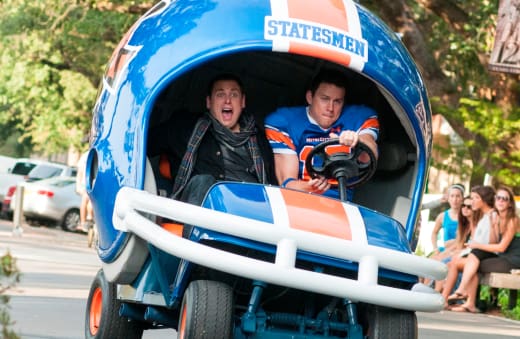 .
Both movies rode waves of fantastic reviews (check out our 22 Jump Street review and How To Train Your Dragon 2 review) and Hollywood is cheering the fact that the top two movies combined to make Tinseltown $110 million in one weekend. That is impressive.
What's fascinating is that we are kind of surprised it wasn't the other way around.
22 Jump Street was rated "R" (thus a smaller potential audience) and opened in almost 1,000 less theaters. Plus, How to Train Your Dragon 2 had the family movie audience and that 3D increased ticket price -- although $50 million in its opening weekend is still fantastic.
Third place belonged to Angelina Jolie in Maleficent. Its third week in theaters brought in $19 million, to bring its cume to $163.5 million.
Fourth place belonged to Tom Cruise's actioner, Edge of Tomorrow, and its $16.2 million. And closing out the top five is last week's number one, The Fault in Our Stars. The Shailene Woodley-starring romance-weeper racked up another $15.7 million. That's $81.7 million in two weeks!
In other news, we finally have our first domestic $200 million movie of the summer and it's X-Men: Days of Future Past. The film landed in sixth place and now has banked a total of $205.9 million.
Box office top 10:
1. 22 Jump Street, $60 million
2. How to Train Your Dragon 2, $50 million
3. Maleficent, $19 million
4. Edge of Tomorrow, $16.2 million
5. The Fault in Our Stars, $15.7 million
6. X-Men: Days of Future Past, $9.5 million
7. Godzilla, $3.2 million
8. A Million Ways to Die in the West, $3.1 million
9. Neighbors, $2.5 million
10. Chef, $2.3 million
If you haven't seen 22 Jump Street yet, watch 21 Jump Street online and see why people are so excited by the sequel.