When 21 Jump Street hit movie screens, its success and the incredible quality of the action comedy surprised many. But, for those who have followed writer-directors Phil Lord and Chris Miller's careers, we would expect nothing less than the brilliance they've continually brought. Now that 22 Jump Street has arrived, as told to us in our Lord and Miller exclusive interview, the surprise factor is gone.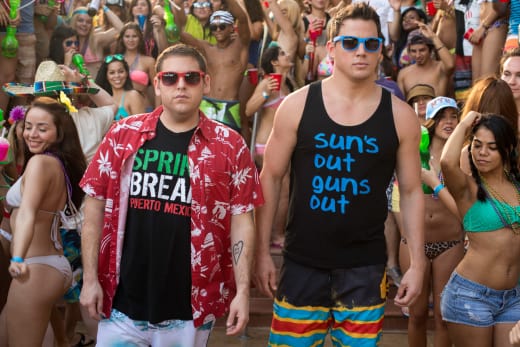 With Cloudy with a Chance of Meatballs, no one expected much from a little children's book being brought to the screen, and Lord and Miller hit it out of the bark. Then, they did 21 Jump Street and people thought, "Wow, these guys are good." Then, The LEGO Movie arrived and people are now putting Lord and Miller movies on their calendars.
Toss in the fact that this is a sequel (something they've never done before), and the anticipation level could not be higher -- which is a double-edged sword because of the aforementioned fact that they can't catch anyone by surprise.
We hate to say it, but Lord and Miller are wrong. They have surprised us immensely with this film, and it's because of how incredibly self-aware they are in clueing the audience into the fact that they keenly know what they're doing by actually making a sequel.
Heck, they even have Ice Cube's Captain Dickson tell our favorite police duo repeatedly when they get off course, "Just do the same thing!"
22 Jump Street features the return of Jonah Hill and Channing Tatum as Schmidt and Jenko, and this time out, the boys head undercover to college to bust a drug ring before someone else dies. Sure, that sounds familiar from those 21 Jump Street quotes. 
But, there is much that is different as this isn't just a movie making fun of movies that are based on TV shows. This is a sequel having a blast with being a sequel. And as sequels do, they up the ante, and Lord and Miller have done that by adding a real emotional strain on the partnership/friendship between our two leads. There's a love interest for each which causes a rift. Sure, Hill's is a girl (Amber Stevens as Maya) and Tatum's is a man crush, his football team and his fraternity. 
There are also twists in that the culprit isn't as black and white as it was in the first movie. The guys question their mission. They question each other and, most importantly, they question what it is they're doing this second time around. That all adds up to some surprisingly insightful and hilarious moments throughout.
22 Jump Street also plays into that idea that so many think that college is the best days of our lives. It's the time to find ourselves. It's a time to explore new things and be crazy. And most importantly, later life doesn't allow that.
But, believe it or not, there is a message in Lord and Miller's film and that is that the best moments in our lives are the ones we're living.
Comedy does come from all corners, teased in that awesome 22 Jump Street red band trailer. There are stereotypes that are busted apart for humor. The institution of the sequel is fodder, as we said. But, our 22 Jump Street review has to point out that the humor this time out also greatly comes from supporting players.
The Lucas twins steal scenes from our leads as their across-the-hall neighbors. Hill's girlfriend Maya has an insane roommate played by Jillian Bell who is simply explosively uproarious. Ice Cube even gets to riff even more than the first one, proving he is the most unlikely of funnymen. And lest we forget the return of Ron Riggle and Dave Franco, who literally give us the last laugh.
Also, might we report that the self-awareness of 22 Jump Street doesn't end with the plot. Stay for the closing credits as they may be among the best of all time. And lastly, if you find yourself heading home after seeing the movie, feeling the uncontrollable urge to watch 21 Jump Street online, you are not alone!