300 Rise of an Empire DVD Review: Bring the Battle Home!
by Joel D Amos at . Updated at . Comments
In 2007, the film 300 became an unexpected phenomenon, and now a follow-up has arrived in 300: Rise of an Empire that is not quite a sequel, but more of a companion piece.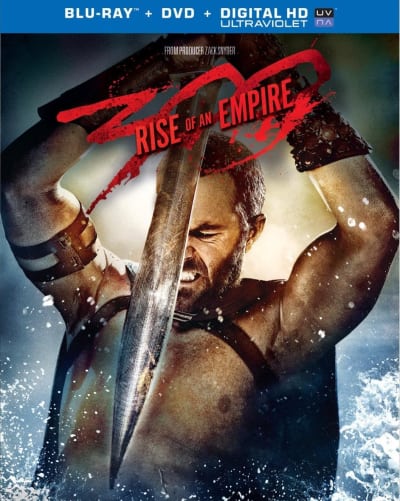 The events of 300: Rise of an Empire take place practically concurrently with those in 300 and they show the affect news of the loss of "the 300" has had on the rest of the Greek nation states who are trying to hold off an advancing Persian army.
300: Rise of an Empire has landed on DVD, Blu-Ray and digital download and it stars an out-of-this-world Eva Green as the Greek-born, Persian-raised military leader Artemisia and Sullivan Stapleton as Themistokles.
Themistokles believes that only a united Greece can defeat the Persians, but there are few that share his view, not even Lena Headey's Spartan Queen, Gorgo -- who lost her husband (Gerard Butler) in the battle of 300.
Stapleton meets Green's performance note for note. His Themistokles fights cunningly in this war for the heart of Greece. He sees it as a larger battle. Persia must be beaten back by these Greek city-states for his country to even continue to exist.
Director Noam Murro has taken over the helming duties from visionary Zack Snyder, but Snyder and his producing partner wife Deborah are still overseeing the entire series. And that fact could explain why this still is a visual marvel and, dare we say it, further expands the movie magic we see on screen.
What sets Murro's film apart -- as we stated in our theatrical 300: Rise of an Empire review -- is this time, a majority of the battle takes place at sea. The cinematic wizardry it took to create these scenes is stunning and that is why the bonus features on the 300: Rise of an Empire are practically as must-see as the movie itself for fans of 300.
We have to start with the featurette Brutal Artistry as it showcases what audiences adored about 300 and also treasured about its follow-up. There is something truly unique and envelope-pushing about how this film's war sequences are shot. It is almost violence as ballet and Snyder and Murro explain the method to their mastery throughout Brutal Artistry.
The 300 Effect also picks up on that fact in that Snyder and company explain that the first film truly revolutionized how action sequences are shot and how now they are a victim, in some ways, of their own success. The highest form of flattery is imitation, sure, but what if you are seeking to push the visual envelope even further -- which they do in 300: Rise of an Empire.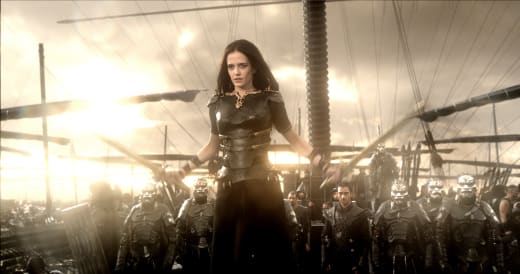 And since Green's character seems so revolutionary, the Women Warriors featurette is a don't-miss. Not only does it showcase the amazing performance, dramatically and action-wise of Green, but it shows that female warrior leaders were in fact not rare in this time period. Artemisia is merely the embodiment of others who really fought the good fight, right alongside the men.
And as we mentioned above, Murro ups the ante by taking much of the battle to the raging sea. As anyone who follows movies knows, that is one challenging task to say the least. The bonus feature Taking the Battle to the Sea explores that fact and gives priceless insight into how Murro and his team managed to tame the high seas to get the shots they needed.
Lastly, for history buffs like us here at Movie Fanatic, the featurette Real Leaders & Legends is a fascinating look at the real souls who battled during these Persian and Greek wars and it truly gives an element of realism to the fantasy fights we witness in 300: Rise of an Empire. 
Be sure to watch 300: Rise of an Empire online and check out the cinematic wizardry we're saluting! And if you're new to this world, watch 300 online and dive in right now!