A Million Ways to Die in the West: How Seth MacFarlane Got Those Cameos!
by Joel D Amos at . Updated at . Comments
We decided to wait a few days after A Million Ways to Die in the West to tell you about a part of our Seth MacFarlane interview that involved how he got some of those killer cameos in his western-comedy. Now, if you haven't seen the flick yet, spoiler alerts ahead!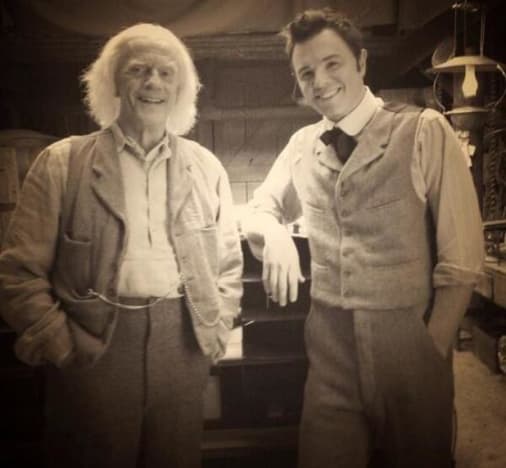 Now, the first cameo he discussed involves Christopher Lloyd appearing as Doc Brown from Back to the Future in a scene that has sent audiences into fits of applause. It wasn't something that was in the script, but while filming, it hit MacFarlane that it would be a perfect cameo.
"While we were filming, we thought, 'Well, you know, you could kind of explain this away because it is a time machine.' You know… why not? It was just something that turned out to be such a crowd-pleaser in this that I'm very glad we put it in," MacFarlane said.
The other cameo that had our jaws dropping with utter amazement was the appearance of Jamie Foxx during the closing credits. Foxx appears as his Django Unchained character, a fellow resident of the Old West, although clearly from another movie. But, MacFarlane sought it as a way to soften one of the most envelope-pushing jokes in the movie.
The scene at the fair where Charlize Theron first shows what a good shot she is takes place at a shooting gallery called "Shoot the Escaped Slave." Yeah, that. Well, what better way to buck the shock of that joke than to have Django show up and take care of business?
"The Jamie Foxx bit, that was something that we just thought would be cool to have him in the movie, and also it was sort of a way to kind of buy back what is probably the edgiest gag in the movie, the shooting gallery," MacFarlane said.
"That shooting gallery is yet another example of the terribleness that was the 1880's, and I think that's why in our test screenings, people were kind of giving us that one. They're not really that offended because they recognize the context, and Albert points out that this is horrific. But it was something that helped to buy it back at the end of the day."
Now that you have MacFarlane on the brain, check out his Ted quotes and why not watch Ted online!