Avengers Age of Ultron: Joss Whedon on "Being Pulled Both Ways"
by Joel D Amos at . Updated at . Comments
You can forgive Joss Whedon for feeling like he's kind of in a bind as he films Avengers: Age of Ultron. After audiences witnessed his destruction of New York City in The Avengers and then saw Metropolis destroyed at the end of Man of Steel, he feels that audiences have had it up to here with complete and utter destruction -- even in a superhero movie.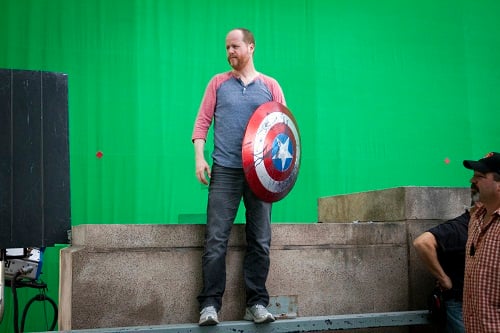 "You're in a constant state of being pulled both ways at all times. You're trying to make a populist film with fascist iconography that is just bigger, and better, and longer, and trying to break that down and find a weakness and humanity," Whedon told The Huffington Post recently.
"People have made it very clear that they are fed up with movies where entire cities are destroyed, and then we celebrate."
So, what to do? Well, it appears that Whedon is comfortable with what he's doing, because frankly, he has no idea who is coming through that cinema door and seeing his film.
"People come in with a certain amount of emotional baggage. So, whether we're in our larvae stage or our decadent stage, I can't really say, but I try to make my superhero movies as if there's either never been one or there's only ever been them," Whedon said.
"I work with the idea that it's just a natural way for people to be, so that you still make a movie about people."
One thing is for sure, he's not going too far subliminally in terms of a wider statement on our society as a whole. "Now, I watched The Dark Knight and I thought of that as riffing on the genre. That was a superhero movie as The Godfather," he said.
"And I was like, 'But I just still want to see a superhero movie!' We had just gotten the technology to make it awesome, and I wasn't ready to be post-modern about it yet."
When it comes to Avengers: Age of Ultron, we know that Ultron will certainly be capable of serious damage, but how will Whedon wield it? We'll see when Avengers: Age of Ultron hits theaters May 1, 2015.
Until then, watch The Avengers online.