With the success of G.I. Joe: Retaliation, one could see why they have given Dwayne Johnson the nickname "Franchise Viagra." Is there no franchise that he cannot reinvigorate? Fast and Furious, anyone?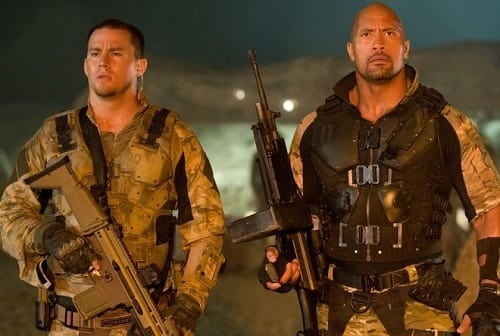 Now, according to G.I. Joe movie producer, Lorenzo di Bonaventura, the franchise will now be all about the Rock.
Johnson will be back as Roadblock, and look for the franchise to head in the direction where the films will focus on his character and those directly related to him in the mythology.
"It's interesting, it's sort of an open possibility right now who could be in it outside of Dwayne [Johnson], he has to be in it. The last movie was really the set up, in a way, for Roadblock to take over," di Bonaventura told Collider.
"Dwayne came aboard a little late last time so we weren't able to do everything I think we can do this time, and really get a story that services what the audience expects out of him, and also as an actor pushes him into areas that you wouldn't normally explore in a big franchise movie perhaps. We have not talked about any other cast or anything, because we really need a story to be completely signed off by everybody."
We'll miss ya, Channing Tatum, but we like the sound of this series heading in a direction that will surely Rock… and roll. 
Literally see Johnson take over when you watch G.I. Joe: Retaliation online.