How to Train Your Dragon 2 Exclusive: What Would Gerard Butler & Craig Ferguson Train?
by Joel D Amos at . Updated at . Comments
We caught up with How to Train Your Dragon 2 stars Gerard Butler and Craig Ferguson for an exclusive video interview and asked them if they could train anything like Hiccup (Jay Baruchel) does Toothless, real or fictional, what would it be?
You have to hear their answer and the discussion that ensued!
As you can see in the How to Train Your Dragon 2 trailer, Ferguson is back as Gobber and Butler is back as the leader of the community, Stoick, who also is Hiccup's father.
Stoick is determined in the latest picture to truly pass the regal torch to his boy. Of course, things have changed on Berk -- largely due to Hiccup's ability to train his and other dragons.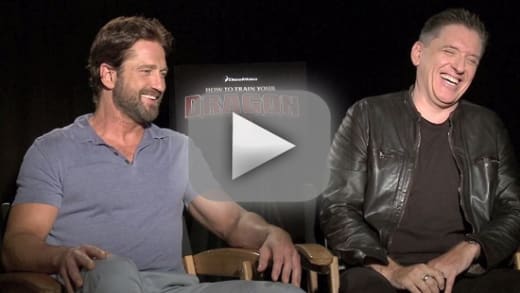 There is no way to catch up with these two Scottish actors without getting their opinion on how Scots have been portrayed in the movies.
"I think it's changed," Ferguson said. "It used to be just mad drunks! Then Braveheart came along and it was the warrior poet. Now, I think it's a mixture." 
Butler likes that you can have a Scottish voice now in a movie and there doesn't have to be an explanation. "There doesn't need to be a caricature behind it," Butler admitted.
Be sure to get all sorts of ready for the big sequel and watch How to Train Your Dragon online.