Jack Ryan is one of our 13 top movie spies, and like another -- James Bond -- he's had several actors portray him. The Tom Clancy literary spy gets a new action hero to fill out his highly educated self with Chris Pine in the reboot Jack Ryan: Shadow Recruit. The film is out now on DVD, Blu-Ray and digital download. So, is it worth the Ryan redo?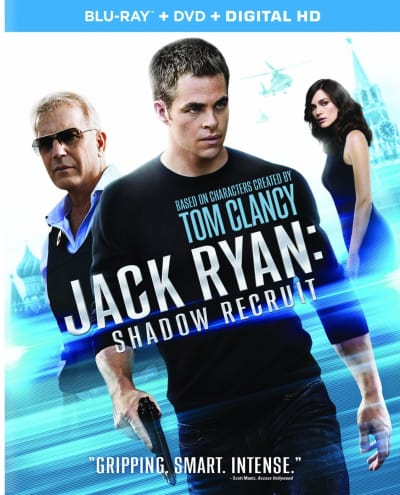 For one, director Kenneth Branagh (who also plays the villain) has completely rebooted the story in the sense that his Jack Ryan: Shadow Recruit is an origins story for our hero.
As teased in the Jack Ryan: Shadow Recruit trailer, we meet Pine as a graduate student in London who, like everyone else, is rocked by the events of 9/11 he sees playing out live on television. He promptly enlists and heads to Afghanistan to fight for America.
How he comes to be in the CIA is essentially laid out in a fantastic scene between Pine and Kevin Costner. The veteran actor portrays Ryan's mentor and it's a terrific onscreen relationship that we look forward to seeing in more future chapters -- as stated in our theatrical Jack Ryan: Shadow Recruit review.
The adventure and thrills part of the story arrive as a cyber threat has emerged from Russia involving Branagh's character. And the scenes between Branagh and Pine are electric. They are actually only eclipsed by the moments where Pine's onscreen wife (Keira Knightley) joins them. There is a war going on and it's through words. It's fantastic, and as directed by Branagh, it truly works and gives us a new flavor of suspense for the character of Ryan.
This is a promising first chapter of a new Ryan series, and we hope that everyone involved gets more chances.
When it comes to bonus features on the Jack Ryan: Shadow Recruit home video release, we have to start with the audio commentary by Branagh and producer Lorenzo di Bonaventura. Having Branagh's take on his choices and the making of the movie, while watching it, is truly special.
The Jack Ryan: The Smartest Guy in the Room featurette is outstanding, and as anyone can say who has either read Ryan's stories on Clancy's pages or seen any of the movies featuring Harrison Ford, Alec Baldwin or Ben Affleck, he is painted as the wisest soul at the CIA -- and that is exactly what sets him apart and why audiences adore this character.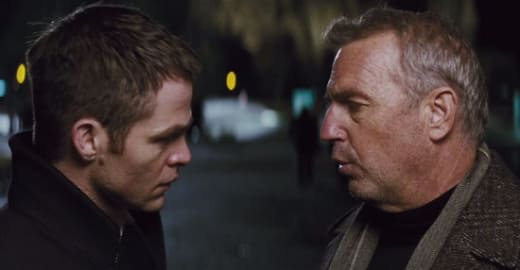 Then, our director gets his own featurette and it is one that focuses on his turn as a Russian villain. Sir Kenneth Branagh: The Tsar of Shadow Recruit is an acting lesson in how to not only nail a foreign accent, but how one gives a villainous performance that is three-dimensional.
And in the vein of the smartest man at the CIA feeling that permeates this entire series, the featurette Jack Ryan: A Thinking Man of Action shows why fans have adored this hero for over three decades. Especially after seeing this particular incarnation, it explores why it is that Ryan is so different from any of the action heroes or spy characters that have come before. 
Intrigued? We bet you are! Be sure to watch Jack Ryan: Shadow Recruit online right now!