Lone Survivor DVD Review: Marcus Luttrell True Story Astounds
by Joel D Amos at . Updated at . Comments
When Lone Survivor landed at the beginning of this year, sure, it did well at the box office. But its late in 2013 screening for Oscar consideration went largely unnoticed and wrongfully so. The Mark Wahlberg film was good enough to take that tenth spot for Best Picture nominees.
You can decide that for yourself now that Lone Survivor has arrived on DVD, Blu-Ray and digital download.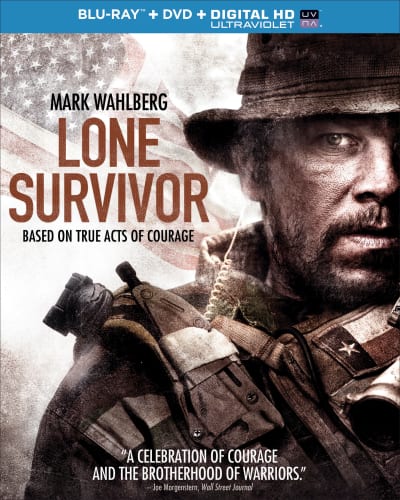 Wahlberg stars as Marcus Luttrell, a member of the Navy SEALs who heads behind enemy lines with three comrades to take out a high ranking official in the Taliban. As the Lone Survivor trailer teases, they come across some goat herders who they decide to let go. It proves to be a fateful decision that will have these four in the fight of their lives. It is some of the most stunning battle footage we've seen since Saving Private Ryan's opening scene.
These four soldiers do the unbelievable and manage to stand their ground against uncanny odds… as long as they can.
Sure, the title may be a spoiler (one of 9 movie titles that give away the ending!). But, that doesn't matter. The story of Luttrell is legendary, and even knowing how the film ends, it is one of the most inspiring films to land in the last 12 months. We cannot recommend the film enough, as we stated in our theatrical Lone Survivor review.
The Peter Berg-directed film shows what an impressive helmer he has become, and the man clearly thought ahead as his bonus features on the DVD and Blu-Ray are equally as impressive as his film.
After witnessing the stunning story, viewers will want, heck, they will demand to know more about these astounding soldiers, and the bonus features delve deep into the real life heroes of Operation Red Wings.
We have to start by saluting Will of the Warrior, which takes an in-depth look at Marcus Luttrell, the real-life Navy SEAL who received the Navy Cross and Purple Heart for his actions in Operation Red Wings. After seeing his story, we cannot think of a better featurette in recent memory on a DVD to further enhance the power that is this man.
As you can see in the film itself, those battle scenes are jaw-dropping. Capturing those scenes and the harrowing nature of them had to be one of the most important tasks for Berg. Therefore, the insight provided in the featurette Recreating the Firefight is astounding. It features interviews with Berg, and stars Wahlberg, Taylor Kitsch, Ben Foster and Emile Hirsch and stunt coordinator and 2nd unit director Kevin Scott.
With such an important story to tell, the quartet of actors who portray these heroes took their roles as seriously as possible and that is shown in the stunning feature Learning the Basics.
One of the most surprising aspects of this story is the connection between Luttrell and the Afghani man who played a huge part in his being able to stay alive, and that relationship is explored in The Pashtun Code of Life. It illustrates how Luttrell's rescuer, Mohammad Gulab, put his life and his family's life on the line in order to save Marcus. It, too, is an important tale to tell.
Lastly, two featurettes fill out the Lone Survivor DVD and Blu-Ray package, and it shows how hard it is to single out any of these bonus features as the best – they are equally as important. Bringing the Story to Light tells how Luttrell's story of survival under extremely dire circumstances is an inspiration to anyone who hears it. Berg and the four lead actors share why the story was important to them.
And finally, a solemn and important tribute to those who lost their lives in Operation Red Wings arrives in The Fallen Heroes of Operation Red Wings using personal photos and touching testimonials. 
We cannot recommend enough that you watch Lone Survivor online right now.