Maleficent Is Angelina Jolie's Biggest Opening: Weekend Box Office Report
by Joel D Amos at . Updated at . Comments
Angelina Jolie kept her title of one of the biggest movie stars on the planet as her latest, Maleficent, finished atop the weekend box office in its first week of release. The Disney live-action re-imagining of the Sleeping Beauty villain opened to an impressive $70 million.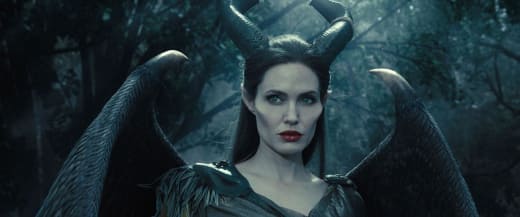 Now, Maleficent opened simultaneously all across the world and its global take was just over $170 million, making it the highest grossing live action Jolie-starring movie in her career!
Meanwhile, last week's blockbuster number one, X-Men: Days of Future Past, fell off by over 60 percent, but still did some seriously solid business in its second week of release. The latest X-Men flick earned $32.6 million to bring its cume to $162 million.
The other new release to arrive in theaters this weekend, Seth MacFarlane's follow-up to the film that gave us all those great Ted quotes, A Million Ways to Die in the West, opened in third place with $17 million.
Fourth place belonged to Godzilla, another former number one movie. The big guy banked $12.2 million in his third week in wide release, bringing the total to $174.7 million.
Closing out the top five is the third pairing of Drew Barrymore and Adam Sandler, Blended. Blended took in $8.4 million and has a two week total of $29.6 million -- by far the pair's least successful effort.
Box office top 10:
1. Maleficent, $70 million
2. X-Men: Days of Future Past, $32.6 million
3. A Million Ways to Die in the West, $17 million
4. Godzilla, $12.2 million
5. Blended, $8.4 million
6. Neighbors, $7.7 million
7. The Amazing Spider-Man 2, $3.8 million
8. Million Dollar Arm, $3.7 million
9. Chef, $2 million
10. The Other Woman, $1.4 million