There is no question that Liam Neeson knows how to play the reluctant hero, just watch Taken online and that fact is front and center. His latest entry into that category is Non-Stop, and it has arrived on DVD, Blu-Ray and digital download.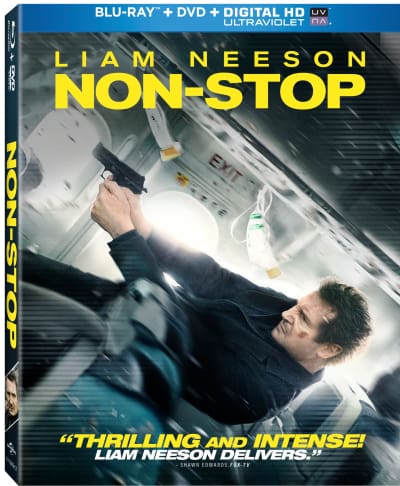 Neeson portrays an Air Marshal with a bad marriage and a slight alcohol problem and, generally, does not appear to play well with others. He gets on board a transatlantic flight to London, and just as the plane takes off (as teased in this Non-Stop trailer), he gets a text that someone on the plane will be murdered every 20 minutes until the sender gets millions of dollars deposited in his bank account.
That's a pretty good plot for an action movie! And it largely works for Neeson and company as this is one solid thriller at 40,000 feet that truly keeps you guessing until the evildoers are revealed. And then, it's not all champagne toasts -- the thrills truly begin!
What we truly appreciate about this film, as we explained further in our theatrical Non-Stop review, is that creating thrills on an aircraft is a tricky endeavor in this type of film. But, the way that filmmaker Jaume Collet-Serra has weaved his web, it'll have the viewer thinking every single passenger on the plane is a suspect, and even Neeson's character himself!
The cast is also outstanding including Julianne Moore, Michelle Dockery and recent Academy Award winner Lupita Nyong'o (recently named to the Star Wars: Episode VII cast). They all bring their A-game to craft a surprisingly taut thriller.
When it comes to bonus features on the Non-Stop home video release, the first one that truly stands out reflects what we previously said about creating a true thriller on board an aircraft flying over the Atlantic Ocean.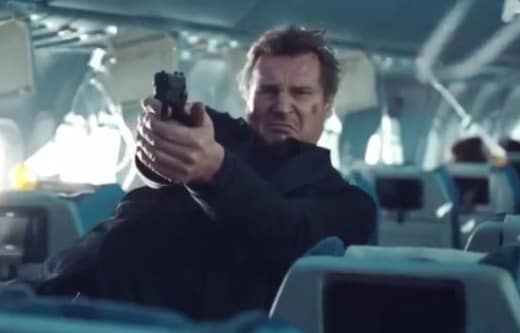 Non-Stop Action takes audiences behind the scenes with Collet-Serra as you get a ringside seat into how he managed to create such tension on a 20 foot by 30 foot set in the shape of a cylinder.
Uber-producer Joel Silver also chimes in, and having his insight is priceless given his long list of action hits (including The Matrix). And stunt co-coordinator Mark Vanselow gives us new appreciation for the choreography of action, especially given the confines of the interior of a jet airliner.
We also appreciated the featurette Suspense at 40,000 Feet as the cast, including Neeson and Moore, give us their account of the filmmaking process for Non-Stop and what it was about this unique concept that had them sign on immediately.
Watch Non-Stop online and prepare to take off on some serious thrills!