Pompeii DVD Review: Paul W.S. Anderson's Explosive Romance
by Joel D Amos at . Updated at . Comments
Setting a love story against the backdrop of an iconic disaster is nothing new, just watch Titanic online and you'll see one of the biggest. Another epic disaster is the one where a volcano emptied its lava and ash and destroyed everything in the Italian community of Pompeii.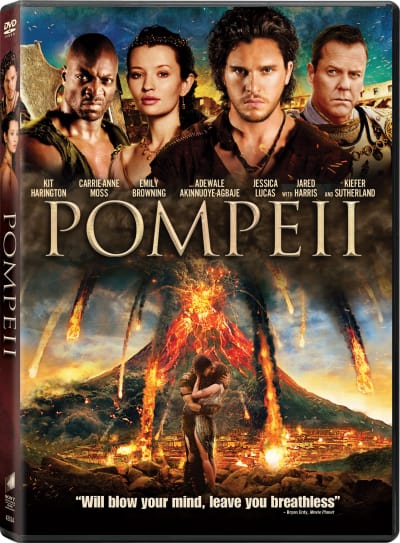 Paul W.S. Anderson (Resident Evil franchise) cast Kit Harrington and Emily Browning as star-crossed lovebirds who find each other in the days leading up to that fateful mass destruction in Pompeii, out now on DVD, Blu-Ray and digital download.
As you can see in the Pompeii trailer, Harrington plays a British slave who finds himself in Italy fighting for his life in gladiator-type games. Along the way to the titular city, he comes across a carriage in need of help. It is there that he meets Browning and immediately the sparks fly.
Pompeii is run by a governor (Jared Harris) who is being pushed around by a visitor from Rome (Kiefer Sutherland, doing his best overacting). This entire explosive situation will certainly get much hotter as the simmering volcano reaches its explosive fate.
Anderson is quite adept at these types of spectacles, and to see him stretch his wings on this film is a joy. We rather enjoyed the Pompeii experience, and it helps that the filmmaker was inspired by the real stories of people who died and were frozen in the ash forever. In fact, his film bookends those images.
This is truly Anderson's film on so many levels, so to hear his filmmaker's commentary is an utter joy. Might we recommend watching the film as a whole first, then going back through a second time with Anderson adding his supremely informed thoughts on the making of his epic.
The Assembly: Cast and Characters feature chronicles how the stellar ensemble was put together from page to screen.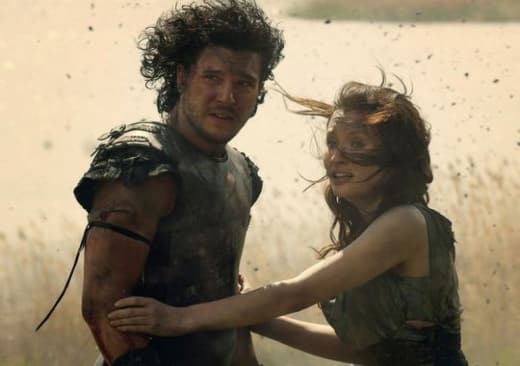 But, the big bonus feature here in terms of the filmmaking process is The Volcanic Eruption: Special Effects. It is a stunning cinematic achievement what Anderson did with his explosion of the volcano outside Pompeii that would go down as one of the worst natural disasters of all time. It is impressive what Anderson was able to do, but given the world he created with his Resident Evil movies, we should not be all that surprised.
There are 20 deleted and alternative scenes that are included that are an interesting addendum to the film itself and show fans of Anderson's work how his mind operates when it comes to putting together an epic film.
The most exquisite of the bonus features works on so many levels for fans of the film, and appreciators of history, Pompeii: Buried in Time -- Behind the Scenes of Ancient History's Greatest Disaster. Not only is it a haunting effort what Anderson did by recreating the disaster, but this bonus feature works so brilliantly at incorporating what really happened all those centuries ago with what we see in the, for the most part, entertaining movie.
Watch Pompeii online right now and don't miss some of our favorite Pompeii quotes!