Many wondered why on Earth anyone would remake a classic like Robocop.
First of all, Robocop is a wildly entertaining movie starring Peter Weller, and for the '80s, it was pretty darn fun. But, it is no classic and there is much that could still be said about a man taken inches from death and placed into a robot to patrol the streets of a futuristic Detroit.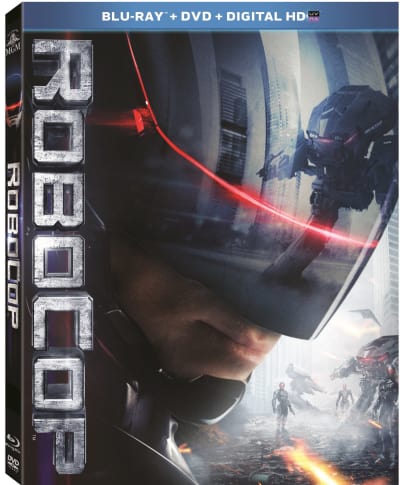 With all the headlines about drones and the role of a human-less warfare strategy, Robocop could be as timely as ever. Now that the Jose Padilha-directed Robocop remake is out on DVD, Blu-Ray and digital download, you can see for yourself if it was worth the update.
First off, Joel Kinnaman has big shoes to fill by tackling the title character made famous by Weller. And the actor could not have been better cast, as our theatrical Robocop review pointed out.
And the star power here is also enormous, from Michael Keaton and Samuel L. Jackson to Gary Oldman, there is some serious talent in this thing. And then there are supporting players such as Jackie Earle Haley and Abbie Cornish (who plays Kinnaman's onscreen wife).
The story is somewhat the same, although it is tweaked to bring it into an age of overseas war and the cost of robots being used in combat.
The reason to see this reboot is three-fold, and it starts with Kinnaman.
He is brilliant and his evolution from father of a young son and devoted husband to justice-driven mechanical killing machine is astounding. And then, there is the onscreen relationship between Kinnaman and his wife, played by Cornish. Her role is greatly increased from the original, and we believe it adds much more of a human aspect to the story that was missing in the '80s version.
The third reason is our director. Padilha is a wizard at creating tension and never forgetting to inject his film with emotion.
No, Robocop -- circa 2014 -- is not anywhere near a perfect movie. But, if you enjoyed the original, then we urge you to give this one a chance.
When it comes to bonus features on the Robocop DVD and Blu-ray, there are the usual deleted scenes, which take us into the decision making process of the director.
But, the standout has to be three featurettes that land under the banner, Robocop: Engineered for the 21st Century.
The Illusion of Free Will: A New Vision, To Serve and Protect: Robocop's Weapons and The Robocop Suit: Form and Function are a trio of terrific bonuses when it comes to taking viewers inside the making of a reboot and why that effort is even needed. 
Watch Robocop online and witness a reboot that, dare we say it, is worthy!