Earlier this week, a slew of Star Wars: Episode VII photos illegally leaked from the set of director J.J. Abrams' epic. We knew that the director would be none too happy about that fact. Considering his long history of secretive productions, from Lost to Cloverfield to Star Trek, no one has a tighter and more closed set than Abrams.
But, we're glad to see in the following photo posted on the director's Bad Robot social media page today that he is calling for it to stop, but with a hint of humor.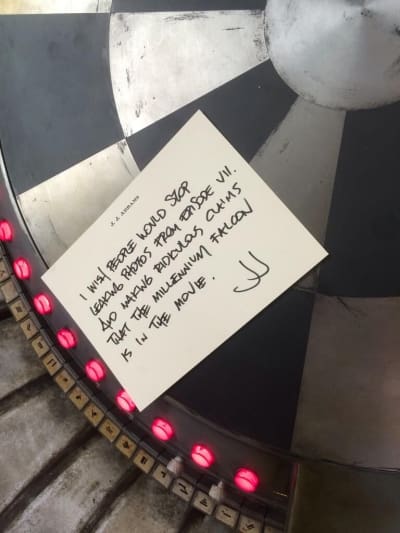 Many of the photos appear to show that the Millennium Falcon would be in Star Wars: Episode VII. We love in his note that he calls out that fact as false. And here's the humorous part of the post: We clearly see in the photo that his post-it note calling for the leaks to stop sits on what is the Holochess board from the bridge of said Han Solo ship!
We'll keep our readers updated as official photos emerge -- like the ones in the slideshow below. And we are also thrilled with the recent news of Oscar winner Lupita Nyong'o and Gwendoline Christie joining the Star Wars: Episode VII cast.