Star Wars Episode VII: Kevin Smith Sheds Nerd Tears After Set Visit
by Joel D Amos at . Comments
Filmmaker Kevin Smith is somewhat of a geek policeman. Smith is held in such high regard that he is invited to sets across the globe to give his stamp of approval and also shown things that we dream of seeing -- like, he was the first to see the Ben Affleck batsuit! 
Smith has taken to his Instagram account and posted the photo below after a visit to the London set of J.J. Abrams' Star Wars: Episode VII.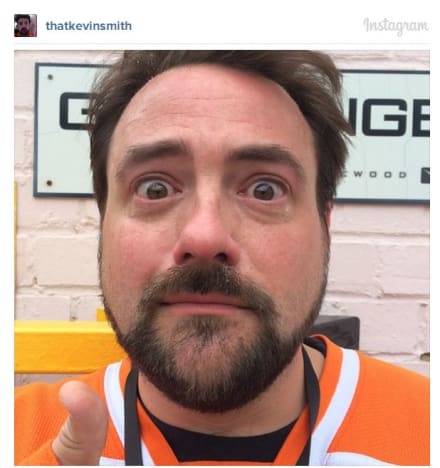 And yes, those are tears. And we know that those are tears of joy, given what he wrote as a caption. "The force is WITH this movie." 
Take Smith's opinion with a grain of salt, but since we don't know much about what is being filmed -- other than Harrison Ford breaking his leg! -- we are seriously encouraged by Smith's emotional response. And from the sounds of it, he did not want to leave. 
Now, if the Star Wars: Episode VII cast can just make the leap to San Diego for Comic-Con, we can all shed tears of joy!