Star Wars Episode VII: Mark Hamill Debuts His Luke Skywalker Look!
by Joel D Amos at . Updated at . Comments
Star Wars fans everywhere were thrilled when the Star Wars: Episode VII cast was revealed and it included the original three: Mark Hamill, Harrison Ford and Carrie Fisher. And with that announcement came a grainy black and white photo of the cast doing a script read. We could see Hamill in the photo, but nothing stood out.
Well, now we know what Hamill's Luke Skywalker will look like in the upcoming J.J. Abrams film. Hamill posed with Mickey Mouse to promote the upcoming Star Wars Weekends at Disney World, and the Star Wars: Episode VII star is sporting a lightsaber, yes, but he's looking quite like Obi-Wan in his full growth beard.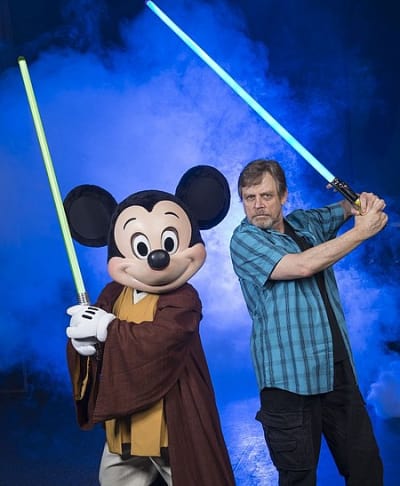 Could Skywalker be a mentor, a la Kenobi, in the new Star Wars film? We think so!
Hamill also spoke with the Orlando Sentinel about the upcoming film, and it's the first time we've heard from the original Star Wars star.
What has he done so far to get ready?
"I've altered my diet. I've started working out. There's that. But on the film itself: I toured the departments, I've looked at wardrobe, and I saw the creature shop. I went around and met all the cast people, saw the technicians working on some new things," Hamill said.
That now iconic photo of the script read was a delight for Hamill -- after all, he hadn't been around his fellow Star Wars actors in years.
"I hadn't seen Tony Daniels or Carrie (Fisher) or Harrison (Ford) or Peter Mayhew in ages. It was wonderful to see them again, because I didn't expect to," Hamill said.
He also reflected his shock at being called to wield the Force again. "This is all so unexpected. It's like getting out that pair of pants you haven't worn in five years and finding a 20-dollar bill in the pocket. Oh, this is nice."
The actor also commented that he believes he thinks George Lucas feels a sense of ease in passing the franchise on to a different director.
"I think he really feels a great relief of passing this property into the right hands. I couldn't be more excited even nominally [being] a part of the Disney family."
Look for Star Wars: Episode VII on December 18, 2015.