Tammy Giveaway: Hit the Road Prize Pack Including $150 Gift Card!
by Joel D Amos at . Updated at . Comments
Tammy stars Melissa McCarthy in the title role and to say she's having a tough time is a gross understatement. As teased in the Tammy trailer, Tammy loses her job, comes home to find her husband having an affair with a neighbor and her car decides that's the day to die beyond repair.
To celebrate the return of a comic wunderkind in McCarthy, Movie Fanatic is presenting a Tammy prize pack that includes movie-related swag (love the "Coming in Hot" Tank Top inspired by this Tammy movie trailer) and a $150 major credit card gift card!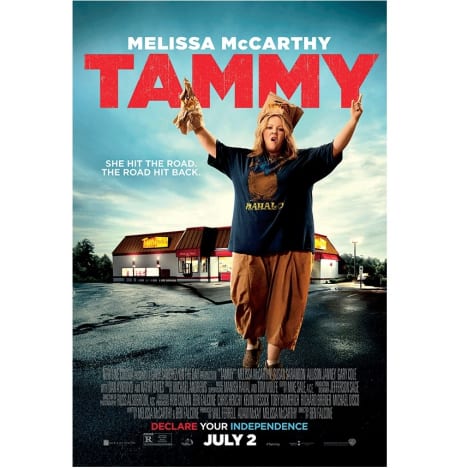 McCarthy is not alone in the awesomeness in Tammy. An all-star cast is led by Susan Sarandon, who plays her grandmother who agrees to let her use her car to get out of town, as long as she can come along. It's a grandma-granddaughter road trip! 
Tammy also stars Mark Duplass, Gary Cole (of those awesome Office Space quotes), Kathy Bates, Sandra Oh, Toni Collette and Dan Aykroyd! And the best part is it also stars McCarthy's husband Ben Falcone, who McCarthy co-wrote the script with and who is making his directorial debut with the comedy.
Look for Tammy in theaters everywhere July 2.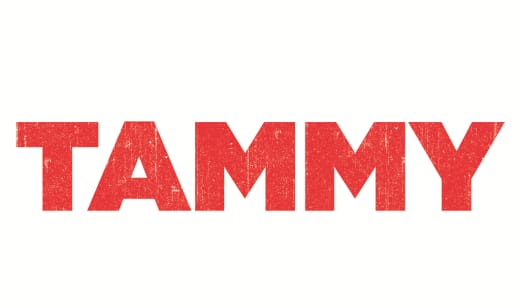 Our Tammy grand prize winner will receive:
Leather Covered Flask
Tammy 'Coming in Hot' Orange Tank Top
Compact USB Car Charger
$150 Major Credit Card Gift Card
Use the widget below to enter on Facebook or Twitter. There are three unique ways to enter, and by entering all three ways you can increase your chance at winning!
Our prize winner will be selected at random on July 7. Good luck!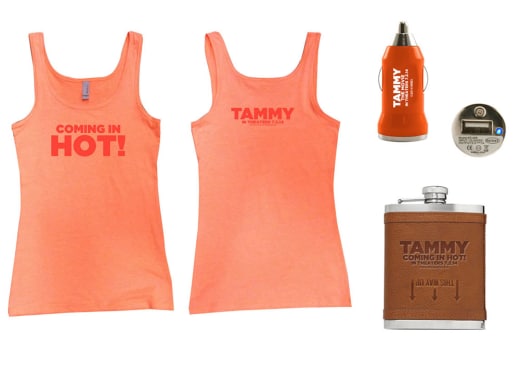 Don't forget to visit the Tammy official site for more on the new film. And to further stay informed on all things Tammy, check out the Tammy Facebook page and follow @wbpictures on Twitter.
Be sure to enter now as the sweepstakes runs through July 7.
You can also sign up for Warner Bros. special offers, be the first to know movie news, updates and more at:
Tammy Synopsis:
Oscar nominee Melissa McCarthy (Bridesmaids) and Academy Award winner Susan Sarandon (Dead Man Walking) star in New Line Cinema's comedy Tammy, marking Ben Falcone's directorial debut.
After losing her job, husband and car in one day, Tammy Banks (Melissa McCarthy) wants out of her small town existence. With no money or transportation, her only way out is with her hard-partying grandmother, Pearl (Susan Sarandon). Their misadventures and brushes with the law lead them on a funny and heartfelt road trip to remember.
The film also stars Allison Janney (The Help), playing Tammy's world-weary mom, Deb; Gary Cole (TV's VEEP) as ladies' man Earl; and Mark Duplass (HBO's Togetherness) as his son, Bobby; with Dan Aykroyd (The Campaign) as Tammy's dad, Don; and Academy Award winner Kathy Bates (Misery, Midnight in Paris) as Pearl's fun-loving cousin Lenore. Rounding out the cast are Sandra Oh (TV's Grey's Anatomy) as Lenore's partner, Susanne; Oscar nominee Toni Collette (The Sixth Sense) as Tammy's neighbor, Missi; and Nat Faxon (Bad Teacher) as Tammy's husband, Greg.
The screenplay is by Melissa McCarthy & Ben Falcone. Will Ferrell and Adam McKay produced the film with McCarthy. Rob Cowan, Falcone, Chris Henchy, Kevin Messick, Toby Emmerich, Richard Brener and Michael Disco served as executive producers.
The behind-the-scenes team included director of photography Russ Alsobrook (Paul Blart: Mall Cop), production designer Jefferson Sage (This is 40), and editor Mike Sale (Bridesmaids). The music is by Michael Andrews (Bad Teacher).
New Line Cinema presents, a Gary Sanchez/On the Day production, Tammy. The film will be distributed by Warner Bros. Pictures, a Warner Bros. Entertainment company.
This film has been rated R by the MPAA for language, including sexual references.
Tammy Prize Pack Release and Indemnification:
By entering the sweepstakes, entrants release and hold harmless Warner Bros. Entertainment Inc. and each of its respective parents, divisions, affiliates, subsidiaries, agents and advertising agencies (collectively,  "WBEI" ) from and against any and all losses, damages, rights, claims, and actions of any kind arising in whole or in part, directly or indirectly, from the sweepstakes or participation in any sweepstakes-related activity (including without limitation the removal from the site of, or discontinuation of access to, any materials), or resulting directly or indirectly, from acceptance, possession, use, or misuse of any prize awarded in connection with the sweepstakes, including without limitation personal injury, death, and/or property damage, as well as claims based on publicity rights, defamation, and/or invasion of privacy.
Limitation of liability:
In no event will the WBEI be responsible or liable for any damages or losses of any kind, including without limitation direct, indirect, incidental, consequential, or punitive damages, arising out of any access to and/or use of the sweepstakes site, the downloading from and/or printing material downloaded from the sweepstakes site, the removal from the sweepstakes site of, or discontinuation of access to, any materials, or the acceptance, possession, use, or misuse of, or any harm resulting from the acceptance, possession, use or misuse of, or participation in, any prize awarded in connection with the sweepstakes. Without limiting the foregoing, the sweepstakes, all prizes, and all materials provided on or through the site "are provided as is" without warranty of any kind, either express or implied, including without limitation the implied warranties of merchantability, fitness for a particular purpose, and non-infringement.

Be sure to check out how we first discovered McCarthy and watch Bridesmaids online. And check out the terrific Tammy posters in our slideshow below.