The Amazing Spider-Man 2 is still on the box office top 10, but we have news about the film's arrival on DVD, Blu-Ray and digital download.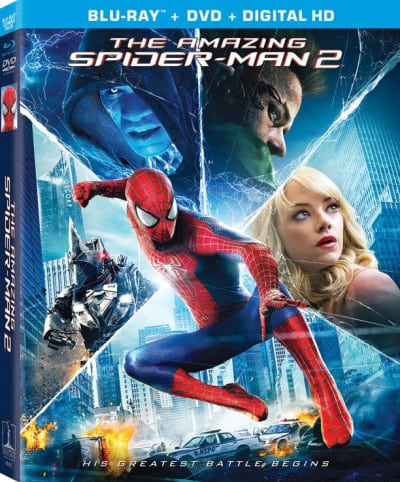 Look for Andrew Garfield and his return to the Spidey suit in The Amazing Spider-Man 2 when the film arrives on digital download August 5 and DVD and Blu-Ray on August 19.
The villain-heavy sequel to The Amazing Spider-Man from director Marc Webb features new additions Jamie Foxx and Electro, and two evildoers who will surely continue to haunt the webbed wonder, Paul Giamatti as Rhino and Dane DeHaan as Green Goblin.
So, what can we expect when it comes to those all-important bonus features?
The Blu-ray & DVD Bonus Features Include: 
4 All-New Deleted Scenes with Commentary by Marc Webb
Filmmaker Commentary
Alicia Keys It's On Again music video
The Blu-Ray will feature exclusively:
9 Additional Deleted Scenes with Commentary by Marc Webb, including Peter Meets His Father
The Wages of Heroism: Making The Amazing Spider-Man 2, featuring revealing, in-depth segments including:
Lessons Learned: Development and Direction -- Filmmakers and cast discuss their approach to the sequel and their efforts to make it the best Spider-Man yet.
Heart of the City: Shooting in New York -- A behind-the-scenes look at the film's unprecedented access to New York City during production.
Triple Threat: Attack of the Villains -- An inside look at the development of Spider-Man's fearsome foes, Electro, the Green Goblin and Rhino.
A More Dangerous World: Transforming Electro and the Green Goblin -- From make-up to costuming, see what it took to transform Jamie Foxx and Dane DeHaan into their fearsome alter-egos.
A Bolt From the Blue: Visual Effects -- Sony Pictures Imageworks artists and animators show how they created the gravity defying, web-slinging and pumped-up action in the new film.
Spidey Gets His Groove Back: Music and Editing -- Learn how the film's soundtrack and score came together in this behind-the-scenes look at jam sessions with Composer Hans Zimmer and the team of master musicians he assembled, including Pharrell Williams, Johnny Marr, Michael Einziger and more.​​
Get ready for the big home video release and watch The Amazing Spider-Man online to see how it all got started!