The Fault in Our Stars (due this Friday) is one sensational and unforgettable movie. More on that in our review later this week, but anticipation is clearly high for this inspirational romance as Fandango is reporting that the film has broken the company's record for the biggest pre-sale for a love story in their 14-year history.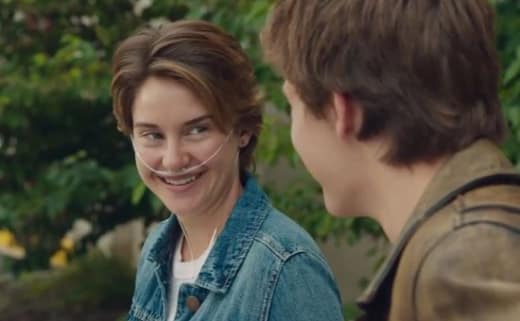 As teased in The Fault in Our Stars trailer, Shailene Woodley plays a young woman who is battling terminal cancer. She finds love in the most unusual of places in her support group in the form of a charming cancer survivor played by Ansel Elgort (who incidentally plays Woodley's brother in the film that gave us those great Divergent quotes!).
Fans of the novel that it is based on, by John Green, are clearly ready to see the cinematic version of one of their most beloved books.
But, The Fault in Our Stars' pre-sale ticket buying frenzy also has to be fueled by the fact that during the summer months, there aren't as many female-centric films as during other times of the year -- and there usually are not a whole lot of romances during the warmer months.
And if this film is half as good as the book it's based on (it is), these pre-sale ticket records are just the beginning. 
Click through and check out some other films with cancer at their core that made us laugh, cry and swoon.