The Interview Teaser Trailer: Seth Rogen & James Franco Go to North Korea
by Joel D Amos at . Updated at . Comments
The last time Seth Rogen and James Franco got together, it proved that This Is the End. This time out in The Interview, they're trying to bring an end to someone else.
The Interview trailer has premiered and it features Rogen and Franco as a pair of best friends who have been asked by the U.S. government to assassinate Kim Jong-Un.
Let's back up a bit. Franco portrays one of the most popular celebrity interviewers on the planet, and Rogen is the brains behind the entire operation.
Seeking to make their mark beyond celebrity fluff, the two score the interview of a lifetime when they're allowed to travel to North Korea to interview the ruthless dictator -- who just happens to have nuclear weapons (or does he?).
They're approached by Lizzy Caplan's CIA agent to do the dirty deed and agree… and we're presuming from the above trailer -- that hilarity ensues.  
The poster for The Interview has debuted too and it reminds us why we love movie posters so much!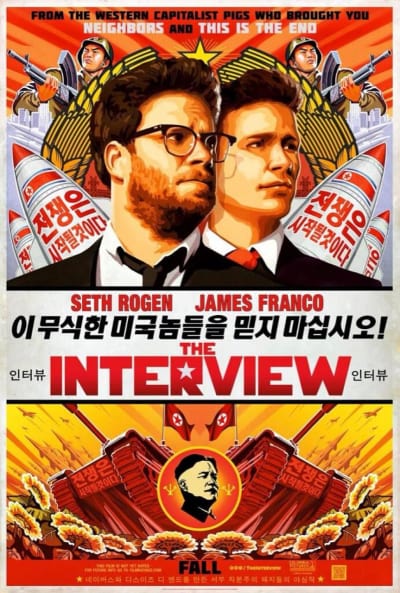 The guys who gave us those unforgettable Pineapple Express quotes look like they're going to do it again when The Interview hits theaters October 10.
And speaking of that pot comedy, watch Pineapple Express online and see why Rogen and Franco are quite the comedic dream team.