The LEGO Movie DVD Review: Building the Perfect Movie
by Joel D Amos at . Updated at . Comments
The success and how bloody fantastic The LEGO Movie is should not have surprised anyone.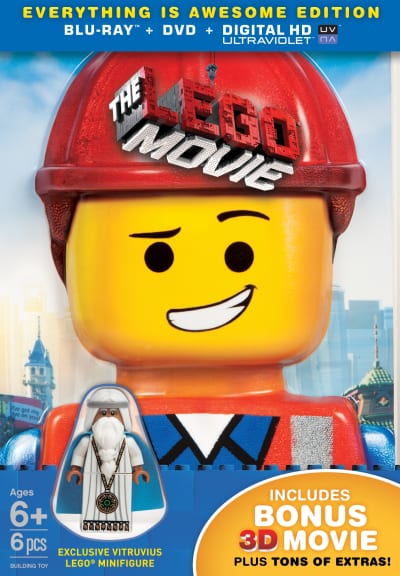 Given that the film is from Phil Lord and Chris Miller (who just gave us those inspired 22 Jump Street quotes), there is nothing these two can't do. And making a movie, based on a popular building block toy, was clearly a labor of love that can now be seen by everyone because The LEGO Movie is out on DVD, Blu-Ray and digital download.
As we stated in our theatrical The LEGO Movie review, Lord and Miller have not only crafted a story that is thrilling, hilarious and filled with heart-pounding action, but it also manages to play to our more innocent memories of playing with LEGO in the first place.
The story of The LEGO Movie follows a LEGO builder named Emmet (Chris Pratt). He's an average guy living an average life who -- through a series of mistaken identity moments -- is sucked into a fight to save his entire world with the likes of Batman (Will Arnett) and other superheroes that have gotten the LEGO treatment.
And Emmet isn't the only LEGO character that is introduced. Elizabeth Banks is mesmerizing providing the voice of Wyldstyle, the woman who finds Emmet and has him become part of the revolution against the tyrannical Lord Business (Will Ferrell).
As this is such a smart, clever and wickedly sharp film, you would imagine that the bonus features would also reflect that. In fact, and this is hard to believe, they are even more brilliant than the movie itself.
Now, there are two versions of the home video release and we received The LEGO Movie Everything Is Awesome Edition Blu-ray Combo Pack, but there is also a more basic The LEGO Movie Blu-Ray combo pack and DVD 2-disc special edition.
First off, we love the inclusion of the Vitruvius (Morgan Freeman) mini-figure, and the Emmet (in full hard hat) face adorning the box gets the little boy in me just a tad on the excited side.
As this is Lord and Miller's creative genius, we have to insist that viewers check out the movie and then return and witness it again with their feature commentary. To hear them discuss their filmmaking process is an inside window into a world of geniuses at work.
Then, there are several featurettes that focus on some of the characters themselves. Batman: A True Artist is a brilliant look at the Arnett character, and Michelangelo and Lincoln: History Cops shows how LEGO has been astounding in presenting historical figures as part of their collection -- all in an effort to entertain and enlighten its audience.
The Bringing LEGO to Life documentary eclipses so many of the making-of docs we've seen on home video releases in that you feel like a fly on the wall watching magicians create movie magic. It was such a painstaking process bringing The LEGO Movie to life, and it was simultaneously done with such love and adoration, it comes through on every frame of the film itself and is explored brilliantly on this making-of doc.
And unless you've been living in a cave, you know all too well the theme song, Everything Is Awesome. Sure, merely the mention of that song will have it in your head all day. So why not check out the Everything Is Awesome Sing-Along and have it permanently planted in your soul!
We also appreciated the bonus feature Fan-Made Films: Top Secret Submissions. The love people have for LEGO is no secret, but to see the passion some fans have in the form of these short films only enhances the entire The LEGO Movie package and shows why it is truly so special.
Given that this is an animation film, you might not think that there are outtakes. But, you'd be wrong. This further shows the brilliance and forward thinking of Lord and Miller to actually create an outtake feature while they were making the movie, just for the home video release!
Lastly, for those who literally dream of LEGO day and night, the featurette Dream Job: Meet The LEGO Builders shows that there really is a paid position at the famed company for those who dream of building… one block at a time.
Watch The LEGO Movie online and don't waste any time diving into this masterpiece.