The Rover: After Twilight, Robert Pattinson on Taking it One Movie at a Time
by Joel D Amos at . Updated at . Comments
When it comes to Robert Pattinson and his career plan, it appears he is taking it one film at a time. Now, how a potential casting of Pattinson as Indiana Jones fits in, time will tell. But, when we caught up with the star of The Rover, he let us know that he even treated each of the Twilight films as if they were unrelated projects.
"I don't really have any particular preconceived plan. Even each of the Twilight movies -- I kind of approached them all as individual movies. I never really saw it as 'Oh, going back to work on...' You can't really predict what an audience is going to like, or want, or even if they're going to follow you to anything," Pattinson said.
"I think if you try to make challenging stuff, and you put your heart into it -- hopefully at least one other person is going to like it," he said with a laugh.
As teased in The Rover trailer, this is quite the departure for Pattinson. He plays Rey, a man who is following his brother around a post-apocalyptic Australian Outback. When his brother steals Guy Pearce's car, it sets in motion a revenge story that is the most unique we've seen in some time.
Whether his relationship to his brother, or the one he develops with Guy's character Eric -- who essentially kidnaps him as they try to track down Pattinson's brother and Eric's car -- there is something Pattinson sees as congruent to both relationships.
"Rey's loyalty is so easily swayed. By the time he gets back to his real brother at the end of the movie, I kept thinking how to play it when he first sees him again. It's almost like he's forgotten who he is -- what that relationship was. That's why he's so conflicted at the end," Pattinson said.
When it comes to Pattinson's own life, there is one thing you get when he is your friend.
"I think loyalty is probably the most important trait in a friendship. I was really lucky to have pretty great friends growing up. I think I've had all my friends for at least ten years. It's definitely very important. It definitely relates in The Rover."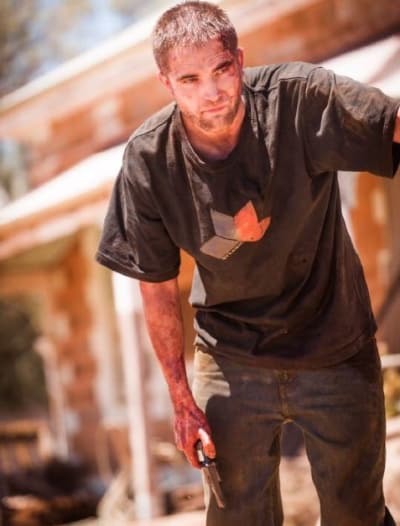 Pattinson has to wield a gun and fire it on many occasions in The Rover, which he found to be quite troubling, a refreshing thing to hear in today's world where gun shootings permeate the headlines.
"I'm quite anti-gun. I didn't like working with guns," Pattinson admitted. "I didn't like it at all. I don't like the feeling of it. I mean, obviously you get a little thrill -- a little power trip of it. I especially felt silly holding a gun, especially while shooting targets. You just have this sort of bang-making machine. After a while it just loses its luster." 
But, when it came down to it, he marveled at Rey's ability with a weapon. "I think Rey's supposed to be pretty rubbish, but he ends up being incredibly accurate the one time he uses it!" 
After Cosmopolis, this is Pattinson's second post-societal breakdown movie. But, don't pigeonhole his movie choices, post-Twilight. It appears that the actor goes to where the story compels him -- regardless of what form it takes. And in the end, he actually doesn't look at either The Rover or Cosmopolis as end of days movies (check out our 19 favorite apocalypse movies).
"I don't really see either of them as post-apocalyptic. I mean, I see both of them as quite hopeful as well. I think Cosmopolis was about a guy who didn't know how to live and has one second of feeling what it's like to be alive, which is kind of a good thing," Pattinson said.
"And The Rover I think was always really hopeful. I think it's really funny. I think the end is sad. I always just talk about it in terms of my character's story and I have a very optimistic view of the world, mainly because I like my life."
Check out how we first discovered the talent of Pattinson and watch Twilight online!